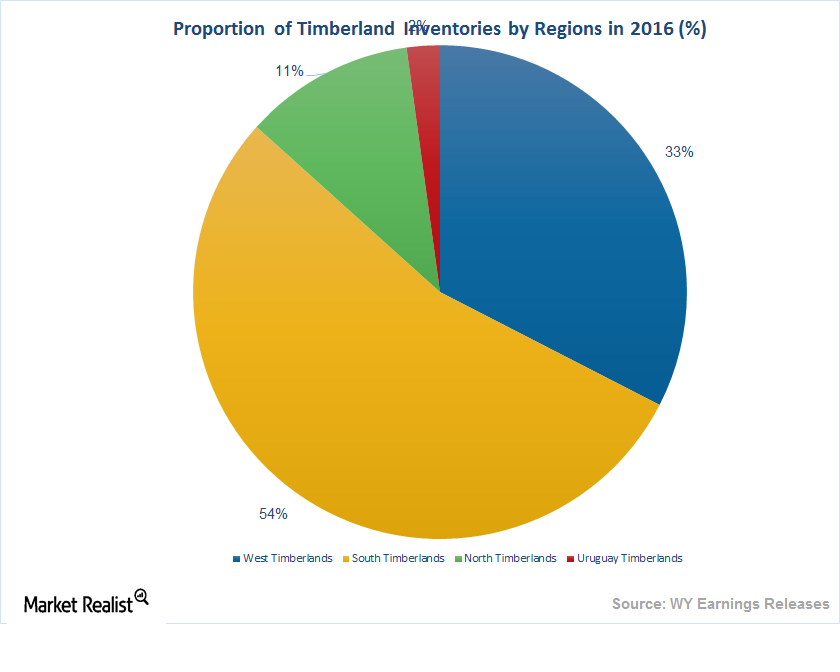 Behind Weyerhaeuser's Growth Trajectory
Weyerhaeuser's growth story
Timberland REIT (real estate investment trust) Weyerhaeuser (WY) reported upbeat earnings results for 2Q17, backed by higher sales and prudent cost management. The recent improvement in the housing sector has also helped the company's timberland business.
Growth in employment, lower mortgage rates, and rising optimism among consumers led to a spike in housing starts in 1H17. Although these slowed down a little in 2Q17, the pace has picked up again so far in 3Q17. Housing starts have risen 4% YTD (year-to-date), with single-family starts increasing 8% YTD.
The growing economy has so far been a boon for REITs including Weyerhaeuser, Rayonier (RYN), Resolute Forests Products (RFP), and International Paper (IP), which have seen higher profits for the past few quarters.
WY, RYN, and IP make up ~20% of the iShares Global Timber & Forestry ETF (WOOD), which has an annualized distribution of ~0.96x.
Article continues below advertisement
Timberland business gaining momentum
Weyerhaeuser's Timberland segment has helped make a strong growth trajectory. Strong demand for domestic logs triggered demand, while WY's operational efficiency improvements have helped it maintain profits. It's been using best practices for harvesting and transportation, which have further boosted profits. All these practices helped the company optimize wood flows over a larger market, minimize costs, and maximize profits.
Supply remained shorter than demand in the Western Timberlands due to record rainfall in the Pacific Northwest. The Southern Timberlands also contributed significantly to Weyerhaeuser's 2Q17 sales volumes, backed by higher seasonal seedling sales. Although fee harvest volumes increased slightly YoY (year-over-year), average log realizations remained flat compared with the previous year.
While Northern Timberlands reported lower harvest volumes, average realizations increased YoY due to a positive mix, which was more inclined toward hardwoods.
Exports also rose, mainly due to the strong homebuilding markets in Japan and China, both of which reported higher housing starts and increased demand for domestic logs.