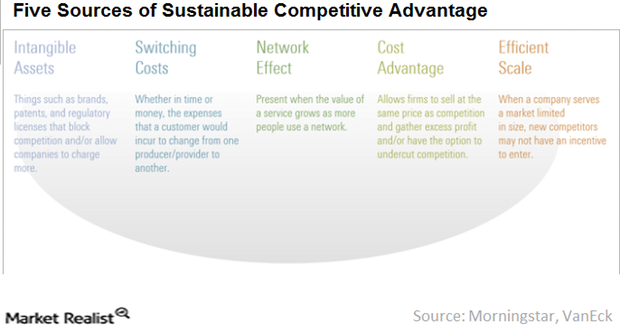 The Network Effect: A Proven Way to Create a Moat
By VanEck

Aug. 28 2017, Updated 2:27 p.m. ET
Article continues below advertisement
The Network Effect: A Proven Way to Create a Moat
The economic principle of the "Network Effect" has risen to the forefront as our world has grown increasingly digital. It describes the phenomenon of an external effect in the economy, where the value of a product or service increases as the number of its buyers or subscribers expands. When a network effect is in play, each additional customer increases the product's or service's value exponentially. The Internet is a good example; it originally had few users outside the military and research science spheres, but its expanding user base exploded its reach and impact over the past two decades. More recently, Internet companies like Facebook and Google have been labeled "network effect" paragons.
Morningstar posits that a network effect can help a company to increase its advantages over competitors, and is often an important source of a company's economic moat. Morningstar Research explains it as:
Network Effect occurs when the value of a company's service increases for both new and existing users as more people use the service. For example, millions of buyers and sellers on eBay give the company an advantage over other online marketplaces. The more sellers there are on eBay, the more likely buyers are to find what they're looking for at a decent price. The more buyers there are, the easier it is to sell things.
The term "critical mass" is often used in connection with the network effect. In game theory, this means that not all game participants need to be convinced for a strategy to succeed, just a very specific portion of them. If this participation threshold is exceeded, the strategy is likely to succeed of its own accord. The network effect works in similar fashion. If the user base for a product or service reaches a critical mass, the network is likely to expand under its own power.
Market Realist
The main barrier to the network effect's taking place is getting enough users so that the effect occurs. At critical mass, the value obtained will be greater than or equal to the price paid for the good or service.
The value of a good or service is determined by its user base. After a certain number of people have subscribed to that good or service, additional people may subscribe as its value exceeds its price. Hence, the main issue, as mentioned above, is hitting critical mass.
Amazon (AMZN) and eBay (EBAY) are good examples of the network effect. Amazon and eBay manage their end consumers and merchants through their websites. Consumers aren't interested in buying from these websites unless there are a variety of products available, which usually means that enough merchants must be present. Once the users arrive, the retailers do, too. Consumers and merchants feed off of one another. These sites are taking cuts on each item.