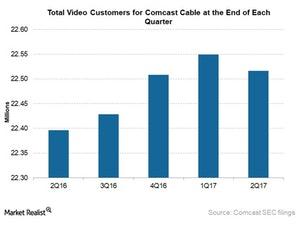 How Comcast Is Edging Out Competitors in Triple-Play
By Shirley Pelts

Aug. 28 2017, Updated 3:06 p.m. ET
Comcast's triple-play business
Comcast's (CMCSA) Cable Communications business continues to be driven by its high-speed Internet and video business. As we saw in the previous part of this series, Comcast's video business suffered from 34,000 seasonal video subscriber losses at the end of fiscal 2Q17, but it ended the second quarter with 22.5 million video subscribers. The company's high-speed Internet business had 25.3 million subscribers at the end of fiscal 2Q17.
Article continues below advertisement
However, the company's triple-play (high-speed Internet, voice, and video) business also faces rising competition from the triple-play services of telecommunication companies Verizon Communications (VZ) and AT&T (T). That's because telecommunication companies continue to extend fiber-based wireline networks in Comcast's service areas.
Comcast was asked during its fiscal 2Q17 earnings call about what differentiated its triple-play business from those of telecommunication companies. The company said that market segmentation and offering the best products in a particular market segment, including the X1 set-top box, has been the key to succeeding in the triple-play business. It said that while telecom companies such as Verizon have offered deeper discounts on its triple-play products, Comcast has remained focused on offering the best products at the best price for a particular segment of the market.
Verizon's FiOS video subscribers in fiscal 2Q17
Verizon Fios offers subscribers with voice, Internet, and video services over a fiber-optic network. In 2Q17, Verizon Fios narrowed its video subscriber losses to 15,000 compared to 41,000 net losses in 2Q16.
However, there was a fall of 120 basis points in the penetration of the Fios service to 33.4% as a result of softer linear TV demand due to rapid growth in OTT (over-the-top) video viewing trends and competitive promotional offers.