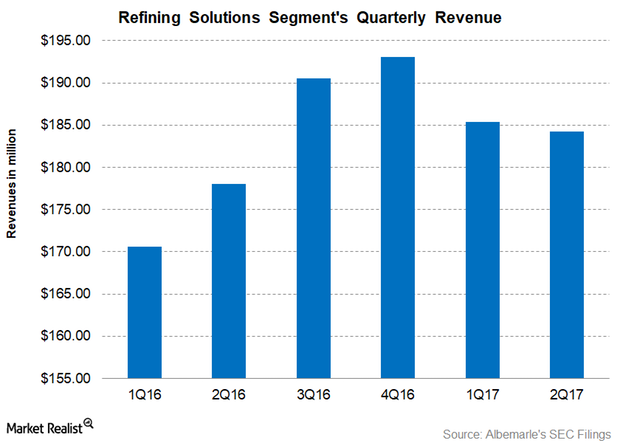 How Albemarle's Refining Solutions Segment Performed in 2Q17
Albemarle's Refining Solutions segment in 2Q17
Albemarle's (ALB) Refining Solutions segment is the company's lowest revenue generator, accounting for 25.0% of its total revenues in 2Q17 compared to 26.6% in 2Q16. The segment reported revenues of $184.2 million in 2Q17, an increase of 3.5% on a year-over-year basis. In 2Q16, the segment reported revenues of $178 million.
The increase in the company's Refining Solutions segment's revenues was primarily due to higher volumes. However, the segment's revenues were adversely impacted by an unfavorable product mix and foreign currency hedging.
Further, the company's Fluid Catalytic Cracking (or FCC) division dealt with scheduled maintenance and plant turnarounds, which had a negative impact on its revenues.
Article continues below advertisement
Segment's adjusted EBITDA and margins
ALB's Refining Solutions segment reported adjusted EBITDA[1. earnings before interest, taxes, depreciation, and amortization] of $50 million, a decrease of 18.8% on a year-over-year basis. In 2Q16, the segment reported adjusted EBITDA of $61.6 million.
The segment's adjusted EBITDA margin also dropped sharply, as its 2Q17 adjusted EBITDA margin stood at 27.1% compared to 34.6% in 2Q16. This trend implies a decline of 750 basis points over the previous year. This decline can be mostly attributed to higher input costs as well as scheduled maintenance and turnarounds.
Outlook
Albemarle's (ALB) clean fuel technology is expected to drive the segment's growth due to the implementation of stringent rules to shift to cleaner fuel. However, ALB's FCC business would face challenges with client turnarounds, resulting in pricing issues due to competitive pressure.
Investors looking for diversified exposure to ALB can consider the Vanguard Materials ETF (VAW), which invests 1.5% of its portfolio in ALB. VAW also provides exposure to Dow Chemical (DOW), Monsanto (MON), and Praxair (PX) with respective weights of 9.1%, 6.0%, and 4.3% on August 7, 2017.