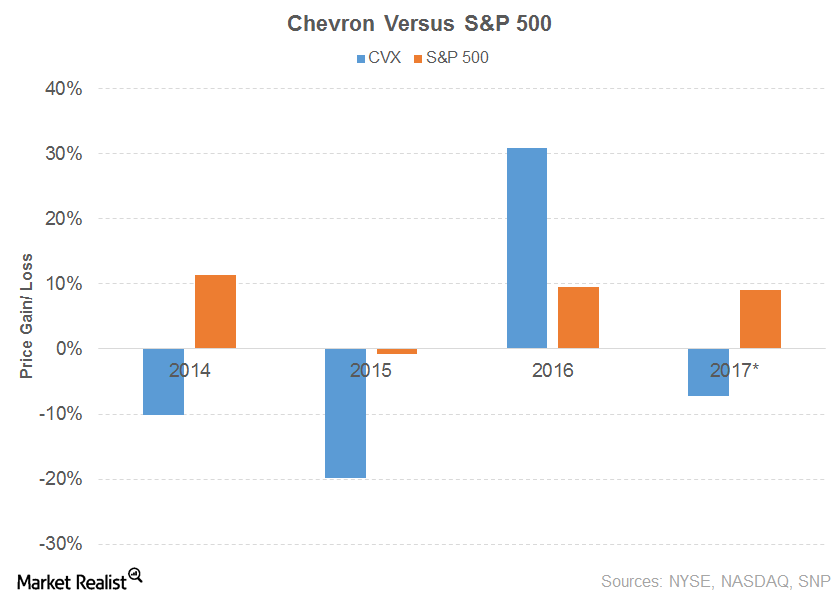 How Good Is Chevron as a Dividend Payer?
Chevron: Basic materials sector, major integrated oil and gas industry
Chevron's (CVX) key segments include upstream and downstream segments. Its total sales and other operating revenues for 2016 fell 15.0% due to volatility in commodity prices, which affected its segments. All that boiled down to a net loss for 2016.
The company has been unable to generate positive free cash flow in the last few years. However, its financial leverage has been stable, and its debt-to-equity ratio has been fairly low.
We can see the deviations in Chevron's dividend yield in the graph below. (Note that the asterisk in the graph denotes an approximation in calculating the dividend.)
Article continues below advertisement
Growth in sales and operating revenues
Chevron recorded a growth of 26.0% in total sales and other operating revenues for the first half of 2017, driven by all its segments. It recorded positive EPS (earnings per share), unlike the first half of the year, despite higher costs.
We can see in the above graph how the weak rebound in commodity prices is affecting the company's earnings and prices in 2017 after beating the S&P 500 in 2016. (Note that the asterisk in the graph denotes a price gain or loss to date.) The stock has underperformed the S&P 500 so far in 2017. The US dollar has also recorded a fall, driven by low interest rates and inflation, a recovery of the European economy, and uncertainty associated with President Trump's policies. A weakness in the US dollar means that the country will have to cough up more dollars to purchase crude oil when the price rises. As a result, the dollar weakens further.
Chevron stock has fallen 7.3% on a YTD (year-to-date) basis.
Chevron's dividend yield of 3.9% compares to a sector average of 6.9%.
The ALPS Sector Dividend Dogs ETF (SDOG) offers a dividend yield of 3.4% at a PE (price-to-earnings) ratio of 16.3x. It's a well-diversified ETF. The SPDR S&P International Dividend ETF (DWX) offers a dividend yield of 5.0% at a PE ratio of 15.9x. It's a diversified ETF with the highest exposure to financials.