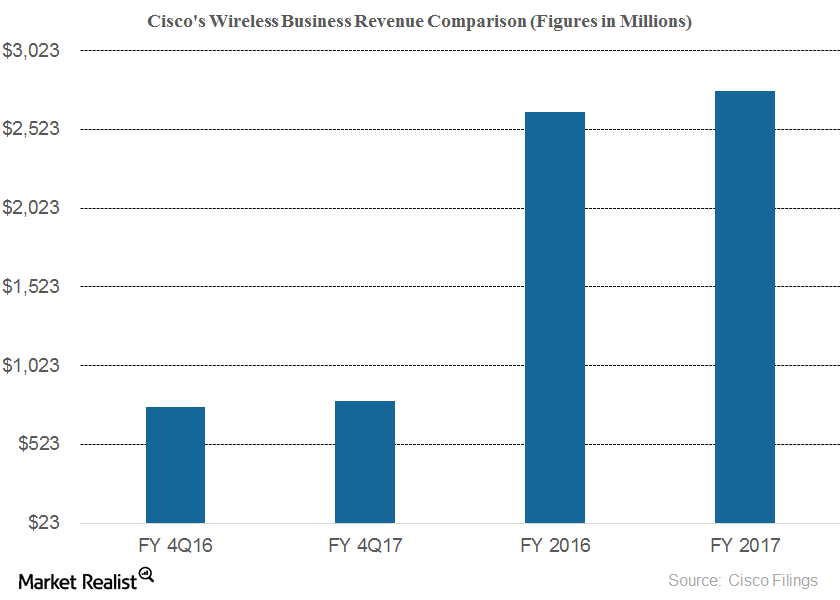 Cisco's Wireless Revenues Rose 5% in Fiscal 4Q17
By Adam Rogers

Aug. 23 2017, Updated 7:36 a.m. ET
Revenues rose 5% in fiscal 4Q17
Revenues from Cisco's (CSCO) Wireless business rose 5.0% YoY (year-over-year) in fiscal 4Q17[1. fiscal 4Q17 ended July 29, 2017] to $800.0 million. In fiscal 2017, the segment's revenues rose 5.0% YoY to ~$2.8 billion. Wireless is Cisco's sixth-largest business segment and accounted for 6.6% of total revenues in fiscal 4Q17 and 5.8% of revenues in fiscal 2017.
During the company's fiscal 4Q17 earnings report, Cisco's CFO, Kelly Kramer, stated, "Wireless grew 5% with strong Meraki performance as well as the ramp of our 11ac Wave2 portfolio."
Article continues below advertisement
Cisco's acquisition of Meraki in 2012 was been one of the key drivers for revenue growth in its Wireless business. Meraki expanded its services offerings in 2016 as it entered the cloud communications market. Meraki saw a significant rise in its customer base, which has grown from 15,000 in 2012 to 140,000 in 2017.
Earlier this year, Cisco noted that Meraki's R&D efficiency of 12.0x outpaces that of technology heavyweights such as Google (GOOG) (GOOGL) and Facebook (FB). Meraki has more than 250 employees in its Research and Development (or R&D) division.
Cisco has over 43% share in the WLAN market
According to IDC, the overall consumer and enterprise wireless local area network (or WLAN) market fell 0.8% year-over-year in calendar 1Q17. Revenues, however, rose 4.4% YoY in 1Q17 to ~$1.2 billion. The enterprise market rose 8.6% YoY to $1.2 billion in 1Q16 and 7.2% YoY to $5.4 billion in 2016.
Cisco is a major player in this market with a share of 43.4% in 1Q17 compared to 43.6% in 4Q16 and 45.2% in 1Q16. Cisco Systems' WLAN revenues rose 0.2% YoY in 1Q17. Hewlett-Packard is the second-largest WLAN player with a share of 16.2% in 1Q17.
Brocade Communications Systems (BRCD), Ubiquiti, and Huawei are the other major players in the WLAN market with shares of 5.7%, 6.1%, and 3.7%, respectively, at the end of 1Q17. Brocade's revenues fell 22.0% YoY, Huawei's revenues rose 229.0%, and Ubiquiti's revenues rose 48.0% YoY in 1Q17.