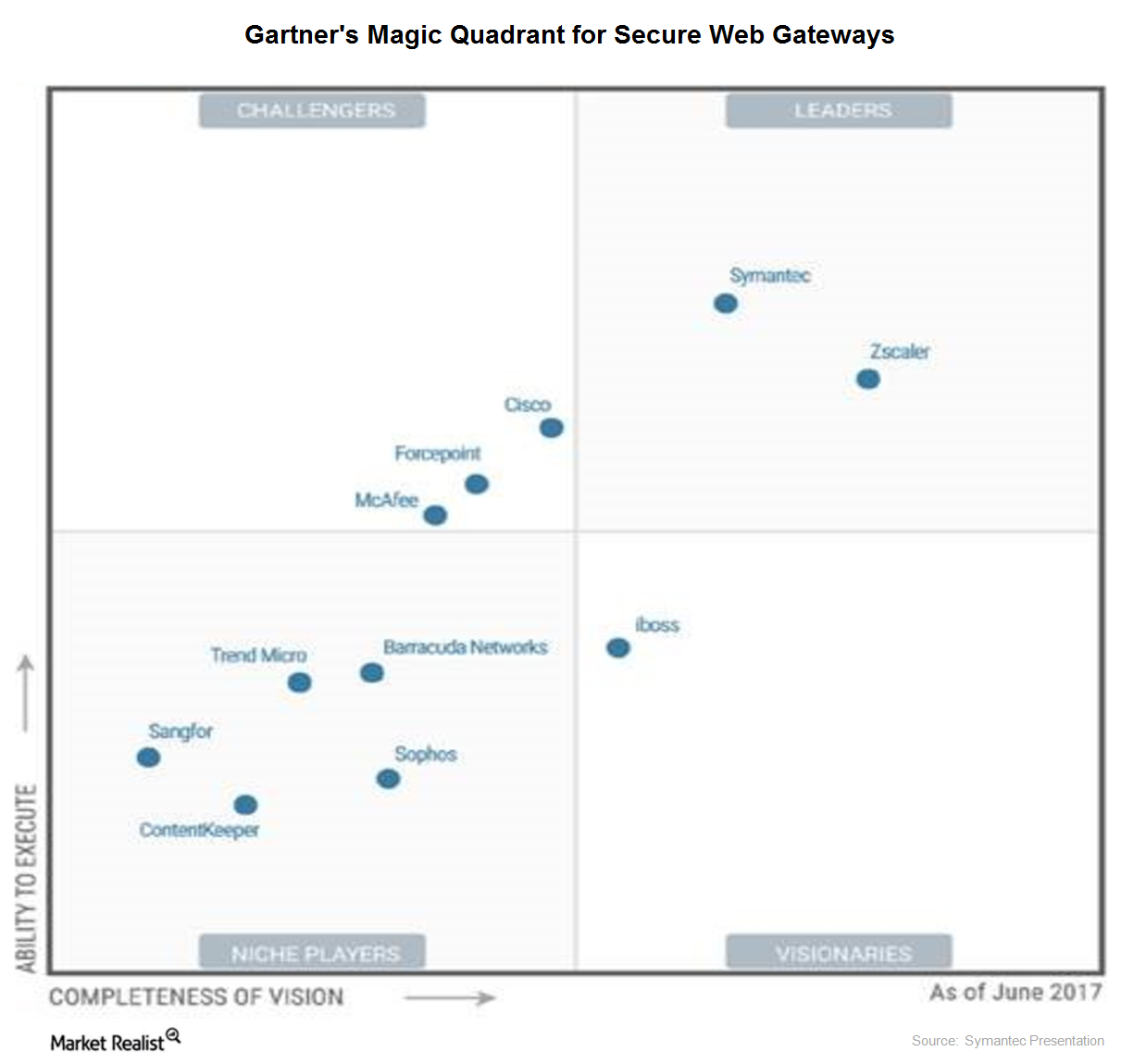 Chart in Focus: Symantec's Leadership in the Secure Web Gateway Space
Symantec is a leader in secure web gateways
In its Magic Quadrant for Secure Web Gateways, Gartner has positioned Symantec (SYMC) as a leader in the secure web gateways space. Moreover, 2017 marked the tenth straight year in which Symantec held this leadership position.
The strategic acquisition of Blue Coat Systems enabled Symantec to integrate numerous features into its security solutions including Endpoint, DLP (Data Loss Prevention), and Messaging Security. This acquisition improved Symantec's leadership position in the secure web gateways space. Before its acquisition, Blue Coat Systems was a prominent player in this space.
Article continues below advertisement
Apart from Symantec, Websense, Barracuda Networks (CUDA), Cisco Systems (CSCO), and Sophos are other prominent players in this space. Explaining how the cloud is driving the growth in the secure web gateways (or SWG) space, Gartner reports, "Enterprises are implementing the cloud-based SWGs to provide security protection for remote offices that are connected directly to the Internet."
With the rapid increase in malware, ransomware, and massive data breaches, organizations are prioritizing spending on offerings that help them identify, investigate, and rectify these malignant attacks. The increasing malware threat and demand for end-to-end security suites are driving growth in this space.
Expected growth in the global SWG space
According to MarketsandMarkets, the global SWG market is expected to grow at a CAGR[1. compound annual growth rate] of 20.5% to $5.6 billion by 2020, up from $2.2 billion in 2015. Although North America is expected to become the largest market, Europe (EFA) and Asia-Pacific are expected to witness a surge in market traction until 2020.