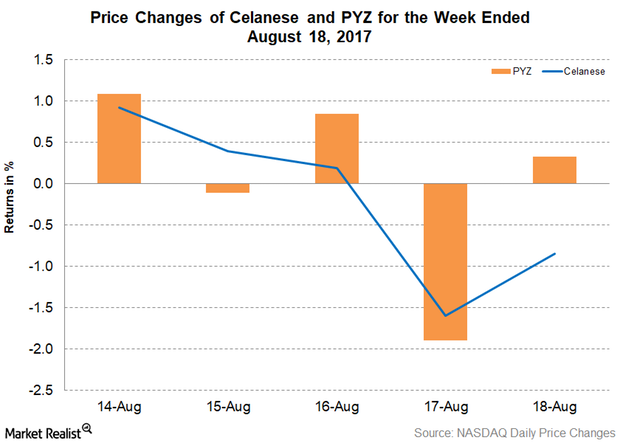 Celanese Increased Vinyl Acetate Monomer Prices
Celanese increased VAM's price
On August 14, 2017, Celanese (CE) announced that it's increasing the price of VAM (vinyl acetate monomer). The price increase have the largest impact in China by 200 yuan per metric ton. In the rest of Asia, the prices will increase by $50 per metric ton. VAM's price hike will be effective immediately or as the contract allows.
The impact of the price increase could have a positive impact on Celanese's revenues if the volumes remain the same or increase. VAM, which is part of Celanese's Industrial Specialties segment, weighed heavily on the segment in 2Q17 due to higher raw material costs. The rise in VAM prices could be due to the rise in raw materials costs.
Article continues below advertisement
Celanese stock fell last week
Celanese stock fell 1.0% and closed at $95.77. Despite the fall in the prices, the stock was trading 4.3% above the 100-day moving average price of $91.78, which indicates an upward trend in the stock. On a year-to-date basis, the stock has returned 21.60%. Analysts expect Celanese's stock price to be at $104.41 over the next 12 months. It implies a potential return of 9.0% over the closing price as of August 18. Celanese's relative strength index of 46 indicates that the stock isn't overbought or oversold.
Investors looking for exposure to Celanese can invest in the PowerShares DWA Basic Materials Momentum Portfolio (PYZ), which has invested 3.20% of its portfolio in Celanese. PYZ also provides exposure to Chemours (CC), FMC (FMC), and Albemarle (ALB) with weights of 4.60%, 4.50%, and 3.60%, respectively. PYZ rose 0.2% for the week ending August 18, 2017.