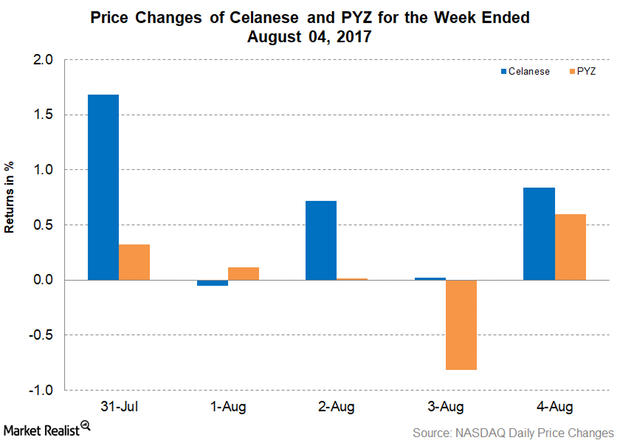 Celanese Impacts Price Hikes on Acetyl Intermediates
Celanese impacts price hikes on acetyl intermediates
On August 2, 2017, Celanese (CE) announced that it's increasing the prices of a few acetyl intermediates. The price increase will be effective immediately or as the contract allows. The new price will impact Asia and European regions. Below are the price changes:
Acetic acid prices rose by $50 per metric ton in Asia, excluding China.
Butyl acetate prices rose by $100 per metric ton in Asia, excluding China.
The prices of MIBK and MIBC rose by 250 euros per metric ton in Europe.
The impact of the price hikes will be reflected in 3Q17. The price hikes could have a positive impact if the volumes remain stable or increase. In 2Q17, Celanese's acetyl segment reported revenue of $826 million—compared to $780 million in 2Q16. It implies an increase of 5.90% on a year-over-year basis.
Article continues below advertisement
Celanese's stock performance
Celanese had a positive week—its stock closed at $97.64 and rose 3.2% for the week. It outperformed the PowerShares DWA Basic Materials Momentum Portfolio ETF (PYZ), which rose 0.2% for the week.
With the weekly gain of 3.2%, the stock is trading ~7.20% above the 100-day moving average price of $91.11. On a year-to-date basis, the stock has returned 24.0%. Analysts see more upside in the stock. Analysts have recommended a target price of $104.41 over the next 12 months. The target price implies a potential return of 6.90% from the closing price on August 4. The stock's relative strength index is 59, which indicates that the stock isn't oversold or overbought.
Investors can hold Celanese indirectly by investing in PYZ. The fund has invested 3.20% of its portfolio in Celanese. PYZ also provides exposure to Chemours (CC), FMC (FMC), and Albemarle (ALB) with weights of 4.80%, 4.50%, and 3.90%, respectively, as of August 4, 2017.