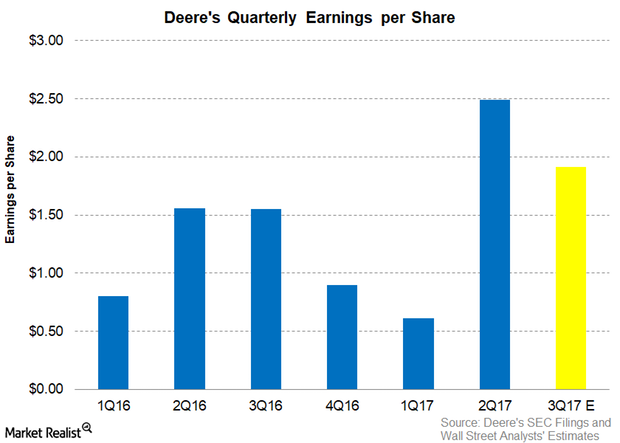 Can Deere Beat the Analysts' Earnings Estimate Again in Fiscal 3Q17?
Analyst expectations for Deere's fiscal 3Q17 earnings
Analysts are expecting Deere (DE) to post EPS (earnings per share) of $1.91 for fiscal 3Q17, which would be an increase of 23.2% on a YoY (year-over-year) basis. In 3Q16, Deere reported EPS of $1.55.
DE has been consistently beating the analysts' estimates over the past four quarters, but it remains to be seen if DE can continue the trend and please investors in fiscal 3Q17.
DE's expected earnings will likely be driven by higher expected revenues. The COGS (cost of goods sold) as a percentage of sales is projected to fall, and analysts expect DE's COGS to reach $5.24 billion in 3Q17, compared with $4.49 billion in 3Q16, implying a 16.7% YoY rise.
Article continues below advertisement
However, as a percentage of sales, DE's fiscal 3Q17 COGS is expected to be ~75.8%, while its 3Q16 COGS stood at 76.7%—a fall of 95 basis points YoY. DE's productive measures are expected to bring down SG&A (selling, general, and administrative) expenses. Analysts' expect fiscal 3Q17 SG&A expenses to reach $655 million, compared with $709 million in fiscal 3Q16. As a percentage of sales, SG&A should represent 9.5% in 3Q17, compared with 12.1% in 3Q16, representing a fall of 260 basis points YoY.
Share repurchases
Companies adopt the strategy of share buybacks to boost EPS. Deere also uses this same strategy, but in fiscal 2Q17, DE didn't repurchase any shares. It remains to be seen if DE will make any share repurchases during the quarter.
Investors can indirectly hold DE by investing in the First Trust Indxx Global Agriculture ETF (FTAG), which has 7.2% of its portfolio in Deere. FTAG's other holdings include DuPont (DD), Dow Chemical (DOW), and Monsanto (MON), with weights of 10.3%, 10.3%, and 9.0%, respectively.
In the next part, we'll examine the latest analyst recommendations for DE stock ahead of its fiscal 3Q17 earnings.