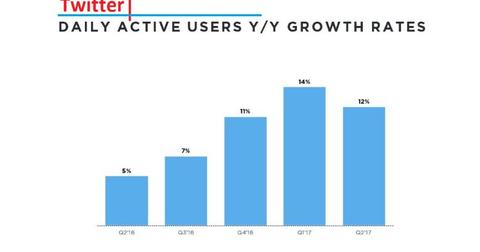 An Overview Of Twitter's DAU Growth
By Neha Gupta

Aug. 29 2017, Updated 10:36 a.m. ET
Facebook's DAUs surpass 1.3 billion
Unlike Facebook (FB) and Snap (SNAP), Twitter (TWTR) doesn't disclose its DAUs (daily active users) metrics. Instead, the company only shares metrics on its DAU growth rate.
Facebook noted that it finished 2Q17 with more than 1.3 billion DAUs, up from less than 1.3 billion in 1Q17 and 1.1 billion in 2Q16. Snap finished 2Q17 with 173.0 million DAUs compared to 166.0 million at the end of 1Q17 and 143.0 million at the end of 2Q16.
Article continues below advertisement
Twitter's DAUs grew 12%
Looking at these numbers, Facebook's DAUs increased 17% year-over-year in 2Q17, while Snap's DAUs increased 21% in the same period.
In contrast, Twitter said its DAUs increased 12% in 2Q17. This metric was down from a 14% increase registered in 1Q17 but up from its 5% growth in 2Q16. The chart above illustrates Twitter's DAU growth rate.
DAU and MAU (monthly active user) numbers are closely watched metrics for social media companies, as they offer clues to their ability to attract and retain advertisers. Marketers analyze platform activity to help them decide how to allocate their advertising budgets.
Big numbers make Facebook stand out
Facebook and Alphabet's (GOOGL) Google are priority platforms for many advertisers (QQQ) due to their massive and active user bases. Facebook has recently discussed improving the ROI (return on investment) for advertisers as part of its efforts to grow its share of the online advertising market.
With fewer subscribers—328 million MAUs compared to Facebook's more than 2.0 billion MAUs—Twitter must catch up to its competition.