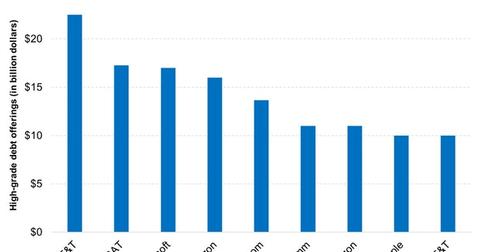 Amazon Sold $16 Billion in Bonds: Here's Why
By Sanmit Amin

Updated
Amazon sold bonds to finance Whole Foods acquisition
On August 15, Amazon (AMZN) sold $16 billion in bonds to fund its acquisition of Whole Foods (WFM). The bonds were met with robust demand from investors, as the tech giant rarely visits the bond market. Amazon is taking advantage of a good borrowing environment.
Amazon's bond sale is the company's fourth in nineteen years, and the first in almost three years, according to Dealogic. The company has ~$8.8 billion in outstanding debt. Moody's gave Amazon a "Baa1" rating earlier this week. It also changed its outlook to positive from stable. Meanwhile, Standard & Poor's gave an "AA-" rating to the new debt offering.
Amazon's purchase of Whole Foods is its first major entry into brick-and-mortar stores, and could reshape the grocery industry. It is expected to be completed by the end of the year.
Article continues below advertisement
The fourth-biggest investment-grade offering of the year
As the graph above shows and according to Informa Global Markets, Amazon's sale is 2017's fourth-largest investment-grade debt offering. The offering will be split into seven parts ranging from three-year bonds to 40-year bonds, with Bank of America Merrill Lynch, Goldman Sachs, and JPMorgan Chase acting as the main underwriters for the offering.
Most investment-grade offerings this year have come from the tech sector. In 2017, AT&T (T) and Microsoft (MSFT) have sold $32.5 billion and $17 billion in bonds, respectively, according to Informa Global Markets.