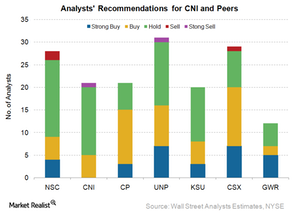 Why Analysts Have a 'Hold' Rating for Canadian National Railway
CNI according to analysts
Canadian National Railway (CNI) is the only transcontinental freight railway in North America. It's the only rail carrier with the lowest exposure to coal among its Class I peers (CSX). There are 21 analysts covering CNI. Of those, only five, or 24.0%, have a "buy" rating for the stock. About 71.0% of the analysts have recommended a "hold" for CNI stock. Only one analyst, or 5.0%, has given it a "sell" rating.
Article continues below advertisement
Why a 'hold' for CNI?
So why are so many analysts recommending a "hold" for CNI? First, CNI's operating margins have contracted, although slightly, in the second quarter of 2017. It's the only Class I railroad (UNP) to do so. The Canadian dollar is strengthening against the US dollar. Normally, a weak Canadian dollar would benefit Canadian exporters. So the now-consolidating Canadian dollar may play spoilsport for CNI's higher volumes in the rest of 2017.
Shipments of energy-related commodities (UGAZ) have risen. However, we don't know yet about volumes in the second half of 2017 for these commodity groups. In April 2017, Canadian National Railway assumed crude oil at $50–$60 for 2017. However, the company has revised that to $40–$50, which could negatively impact pricing and crude oil shipments.
The dividend payout ratio of Canadian National has risen from 24.0% in 1995 to 32.0% in 2017. However, the payout ratio is well under the target of 35.0%. CNI should have improved its dividend payout ratio in the last few quarters, riding on higher margins.
Management's outlook
Now let's see what the company said in its 2Q17 earnings conference call on July 25, 2017. Ghislain Houle, CNI's CFO (chief financial officer), said the company is seeing positive economic conditions in North America and a better-than-expected Canadian economy. Houle did say that volume growth will be more challenging in the second half of 2017 since comparables will be tougher, especially in 4Q17.
Let's not forget that CNI is the only railroad that expects to spend 20.0% of its revenue on capital expenditure. The duopolistic business environment (CP) in Canada will act as an advantage if the economy there grows quickly.
To sum it up, Canadian National Railway remains cautiously optimistic on the environment in the second half of 2017.