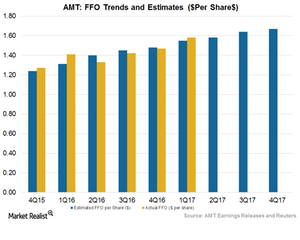 What to Expect from Wireless REIT American Tower in 2Q17
2Q17 performance
American Tower (AMT) is scheduled to report its 2Q17 earnings on July 27, 2017. Analysts expect it to report adjusted FFO (funds from operations) per diluted share of $1.58 for 2Q17 and $6.42 for 2017.
It's expected to report EPS (earnings per share) of $0.72 for the same period.
The expectation for 2Q17 is 1% higher than last year's level. Higher tenant billings could be partially offset by a fall in new lease rates due to a secular transition of cell tower carriers to small cells.
Article continues below advertisement
American Tower has maintained its leading position in the wireless tower sector by making strategic investments to boost its profits and expansion in emerging markets. The company boasts 98%–99% renewal rates for its leases, helping it to maintain a certain pool of profit backed by the marginal cost of maintenance.
Robust profit expected backed by strategic initiatives
American Tower has made several strategic acquisitions to solidify its dominant share in the market. It increased its communications portfolio by 45,000 sites in 2016.
In 1Q17, AMT entered France through its joint venture ATC Europe, a move that allowed it to launch operations in its 15th global market. The takeover also enabled the company to build over 460 new cell towers in the country.
Article continues below advertisement
2017 expected to witness solid growth
According to the guidance AMT issued on its 1Q17 earnings call, it expects to report adjusted funds from operations (or AFFO) exceeding $2.8 billion in 2017, 2% higher than it had previously expected. The company expects to generate over $6.50 in AFFO per share in 2017, nearly in line with analysts' consensus estimate.
AMT's business model drives growth
American Tower's business involves very few surprises. Most of the leases the company signs are long term. Further, American Tower's maintenance costs are minimal because it only pays for towers and the land they're located on. Further, since its towers are usually very high, it can accommodate numerous tenants, and the addition of a tenant to a tower doesn't involve any incremental costs.
Strong 1Q17
American Tower started 2017 on a strong note. Its AFFO stood at $681 million, a rise of 16% compared to the previous year's level. It reported AFFO per share of $1.58, a rise of 15.3% compared to the previous year's level. Its AFFO per share also surpassed analysts' expectations by 1.6% during 1Q17.
American Tower's close peers Realty Income Corporation (O), SBA Communications (SBAC), and Crown Castle International (CCI) are expected to report AFFOs of $0.76, $1.70, and $1.14 per share, respectively, for 2Q17.
The ProShares Ultra Real Estate ETF (URE) holds almost 17% in AMT and its peers. The ETF is diverse in terms of both geography and products, so it offers a cushion to investors.