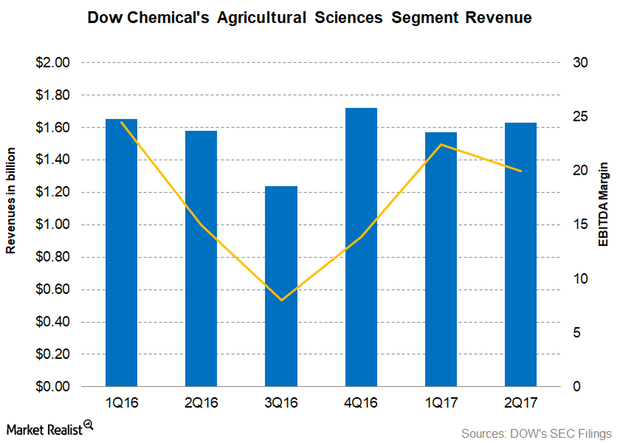 What Boosted DOW's Agricultural Sciences Segment's 2Q17 Revenues?
Dow Chemical's Agricultural Sciences segment in 2Q17
Dow Chemical's (DOW) Agricultural Sciences segment is the lowest revenue contributor among all the company's reporting segments. This segment accounted for 11.8% of DOW's total revenue as compared to 13.2% in 2Q16, a contraction of 1.4 percentage points. In 2Q17, the segment reported revenue of $1.6 billion, an increase of 3.2% on a year-over-year basis.
The Agriculture Sciences segment includes the seeds business and the crop protection business. The seeds business rose 19% in comparison to 2Q16 driven by the POWERCORE corn seeds in Latin America and higher demand for cotton seeds supported by the ENLIST cotton seeds. The crop protection business remained flat in 2Q17 as compared to 2Q16. However, sales of ARYLEX and ISOCLAST insecticides saw higher demand resulting in higher volumes.
On the other hand, the segment witnessed price declines in both businesses and across all regions. Also, the segment was negatively impacted by unfavorable foreign currency translations.
Article continues below advertisement
Segment EBITDA and margin
The segment's higher volumes, reduced operating costs, and lower spending on R&D (research and development) have resulted in higher EBITDA (earnings before interest, taxes, depreciation, and amortization) and EBITDA margin. The segment reported operating EBITDA of $326 million in 2Q17, an increase of 40.5% as compared to $232 million in 2Q16.
The segment's EBITDA margins expanded to 20% during the quarter as compared to 14.7% in 2Q16, an increase of 530 basis points on a year-over-year basis. The segment seems to have a positive outlook due to new launches. Investors can invest in Dow Chemical by investing in the First Trust Indxx Global Agriculture ETF (FTAG), which invests 10.8% in Dow Chemical. The other holdings of the fund include DuPont (DD), Monsanto (MON), and Deere (DE), which have weights of 10.9%, 9.0%, and 7.2%, respectively, as of July 27, 2017.
In the next part, we'll look into the performance of the Consumer Solutions segment in 2Q17.