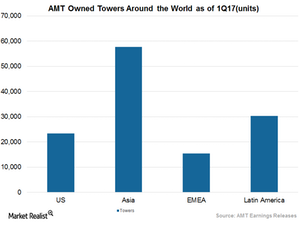 What Are the Main Contributors to AMT's 2Q17 Revenue Growth?
Expectations for 2Q17
Wireless tower owner American Tower (AMT) is expected to post flat year-over-year (or YoY) top and bottom line results when it releases its 2Q17 earnings on July 27, 2017.
Analysts are of the opinion that the positive impact of organic tenant billing is expected to be offset by higher churn rates, mainly due to ongoing consolidation in the industry and the secular shift of carriers toward small cells as a part of the upcoming 5G (fifth-generation) spectrum update.
Article continues below advertisement
Strategic acquisitions keep revenue afloat
American Tower spent ~$512 million on acquisitions in 1Q17. With the help of its joint venture in Europe, ATC Europe, the company was able to acquire nearly 2,500 sites through its acquisition of FPS Towers in France. This development is expected to boost AMT's sales in 2Q17.
Development of existing facilities
In 1Q17, AMT invested $150 million in the development of new sites and the enhancement of capacity at its existing sites. The company also developed several strategically fitting land sites and upgraded them to build towers according to its standards. These initiatives are expected to boost the company's top line in 2Q17.
Article continues below advertisement
Geographical diversity
American Tower has its operations spread across the globe. During 1Q17, its international tenant billings rose more than 14% due to double-digit growth in all three of its international business segments. The geographical diversity offered by American Tower's portfolio is expected to provide the company with benefits at different stages of development in the telecommunications space. These benefits should help the company to maintain its organic growth.
AMT's major competitors include Realty Income Corporation (O), SBA Communications (SBAC), and Crown Castle International (CCI). The ProShares Ultra Real Estate ETF (URE) holds almost 17% in AMT and its peers. The ETF is diverse in terms of both geography and products, so it offers a cushion to investors.