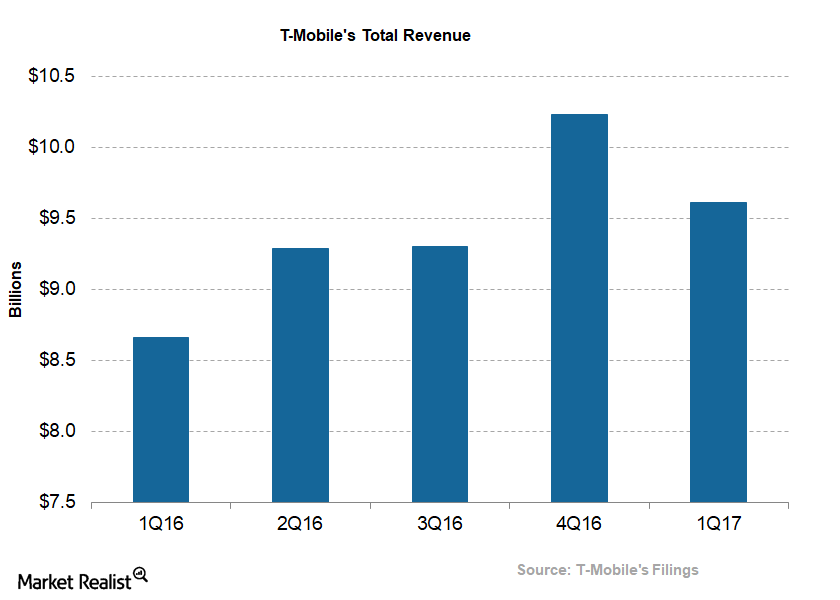 T-Mobile's Distribution Strategy in the Rest of 2017
By Ambrish Shah

Jul. 6 2017, Updated 7:38 a.m. ET
T-Mobile's distribution strategy
T-Mobile (TMUS) is increasing its distribution footprint as a means to drive growth in untapped US markets. Expansion of the distribution footprint suggests a potential subscriber upside.
During the recent JPMorgan Technology, Media & Telecom Conference held on May 22, 2017, Braxton Carter, T-Mobile's executive vice president and chief financial officer, was asked about T-Mobile's distribution strategy. Carter said that T-Mobile's network expansion offers a unique ability to expand its distribution footprint by 30 to 40 million PoPs (point of presence) more than the 230 million that the carrier has always marketed in the past.
According to the company, T-Mobile is planning to open 3,000 stores in 2017, including 1,500 T-Mobile stores and 1,500 MetroPCS stores. Carter further highlighted that T-Mobile is targeting 1,000 new T-Mobile stores by the middle of 2017 and another 500 stores by the end of the year.
Article continues below advertisement
T-Mobile's revenue trend
According to T-Mobile, expansion of distribution could help fetch new subscribers as well as subsequently raise the carrier's total revenue. Earlier, in 1Q17, T-Mobile reported total revenue of ~$9.6 billion compared to ~$8.7 billion in 1Q16. T-Mobile's top-line growth will depend largely on its ability to take market share from major US wireless carriers such as Verizon (VZ), AT&T (T), and Sprint (S).