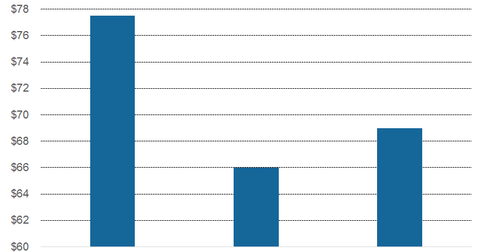 Juniper Networks' Security Business Revenues Fell in 3Q17
By Adam Rogers

Updated
Revenues fell 12% YoY in 2Q17
Juniper Networks' (JNPR) Security business generated revenues of $69 million in 2Q17, indicating a YoY (year-over-year) decline of 12%. The YoY decline was primarily due to weakness in the company's Cloud and Telecom businesses. 
The segment's revenues rose 5% quarter-over-quarter, driven by its Cable, Telecom, and Strategic Enterprise segment customers and partially offset by a decrease in its Cloud segment's revenues.
Juniper Networks' Security segment revenues have declined for six consecutive quarters. Its revenues have fallen 10% YoY in 1Q17, 30% YoY in 4Q16, 29% YoY in 3Q16, 27% YoY in 2Q16, and 21% YoY in 1Q16. Its revenues in fiscal 2016 fell 27% YoY.
Earlier this year, Juniper Networks' CEO, Rami Rahim, announced that the firm is looking to refresh its security product portfolio and would implement competitive pricing to drive revenues. 
Article continues below advertisement
Rahim was optimistic about the Security segment and during the 1Q17 earnings call, he stated, "We believe we are making good progress as evidenced by new logo wins with our newest security products. Several global trials are also underway with managed service providers using Juniper's secure cloud managed enterprise solutions."
Juniper part of a competitive security market
Juniper Networks' management believes that the firm can return to revenue growth in the future. This might seem difficult, as Juniper Networks is a part of the security sector, which has several new and established players.
Juniper Networks competes with heavyweights such as Huawei, Cisco Systems (CSCO), Palo Alto Networks (PANW), and Fortinet (FTNT), which account for more than 50% of this market. Similar to other businesses, Huawei is rapidly expanding its market share in this business segment.
Larger companies have been growing market share by acquiring startups and other companies with disruptive technologies, enabling the acquirer to offer an extensive suite of services to its customers.