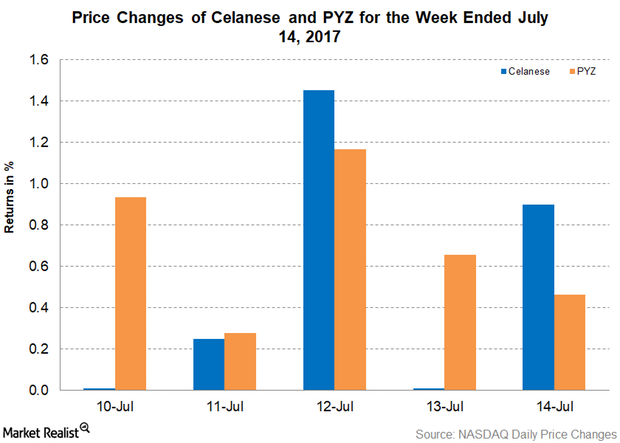 Inside Celanese's Price Hikes Products
Celanese to hike prices for acetyl intermediate
On July 12, 2017, Celanese (CE) announced that it will be increasing the prices of a few of its acetyl intermediate products. The new prices will be effective immediately, or as contracts allow. Below is the list of price increases:
Vinyl Acetate Monomer will be increased to $200 per metric ton in China, and the rest of Asia will see a rise of $50 per metric ton.
Ethyl acetate will go up by 150 euros per metric ton in the Eurozone.
Acetic anhydride will see a price hike of $0.025 per pound in the US and Canada, $60 per metric ton in Latin America, and 50 euros per metric ton in the Eurozone.
The impact of the price increase will be reflective in 3Q17 and could have a positive impact, assuming the volumes remain constant or rise. CE did not sight any reason for the price hike.
CE's Acetyl Intermediates segment recorded revenues of $619 million in 1Q17, which marks a decline of 6.6% over 1Q16, primarily due to declines in volumes. It remains to be seen how this price hike will impact CE's Acetyl Intermediates segment going forward.
Article continues below advertisement
Celanese stock performance
Celanese stock had a good run last week (ended July 14) and gained 2.6% to close at $98.68. But it underperformed the PowerShares DWA Basic Materials Momentum Portfolio ETF (PYZ), which gained 3.5% for the week.
Celanese was trading 9.60% above its 100-day moving average price of $90.05. On a year-to-date basis, the stock has returned 25.3%. Its 14-day RSI (relative strength index) of 74 suggests that the stock has moved into an overbought situation. (Remember, an RSI of 70 and above indicates that a stock is overbought.)
Investors looking for exposure to Celanese can indirectly invest in PYZ, which has 3.2% of its portfolio in CE. The other top holdings of the fund include Chemours (CC), FMC (FMC), and Albemarle (ALB), which had weights of 4.4%, 4.1%, and 3.8%, respectively, on July 14, 2017.