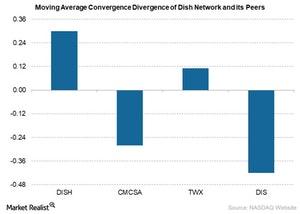 How Do DISH's Technical Indicators Compare to Its Peers'?
By Shirley Pelts

Updated
DISH's technical indicators
A stock's technical indicators include its relative strength index and its moving averages. These indicators are used to predict a stock's future price patterns based on its past price patterns.
Currently, DISH Network (DISH) has a relative strength index of 67, which indicates that it's leaning toward being overbought. An RSI of above 70 indicates an overbought stock, while an RSI of below 30 indicates an oversold stock.
Currently, DISH is trading above all of its moving averages. The stock is currently trading 2.7%, 1.1%, and 1.1% above its 100-day, 50-day, and 20-day moving averages, respectively.
Article continues below advertisement
Bollinger bands and the MACD
Bollinger bands indicate a stock's volatility and are a combination of a stock's moving averages. DISH has an upper Bollinger band of $66.00, a middle Bollinger band of $64.00, and a lower Bollinger band of $62.00. DISH has a positive MACD (moving average convergence divergence) of 0.3, which indicates an upward trading trend.
In contrast, DISH's peers Comcast (CMCSA), Time Warner (TWX), and The Walt Disney Company (DIS) have MACDs of -0.28, 0.11, and -0.42, respectively. A negative MACD indicates a downward trading trend.