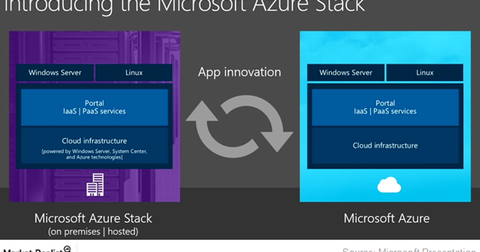 How Azure Stack Can Add to the Allure of Microsoft's Azure
By Anne Shields

Updated
Microsoft's Azure Stack's distinguishing features
Earlier in this series, we discussed the growing preference and adoption of Microsoft (MSFT) Azure. Azure Stack, Microsoft's private/hybrid cloud offering, was released last week. Companies using Dell EMC, Hewlett Packard Enterprise (HPE), and Lenovo (LNVGY) systems can order Azure Stack. Huawei and Cisco Systems (CSCO) will also release Azure Stack–powered systems.
With Azure Stack, customers can buy their own hardware and run the service wherever they want, enjoying the benefits of the public cloud and the hybrid cloud. Azure Stack is an extension of Azure, which enables companies to build an application that works exactly in on-premise environments as it works in the Microsoft Azure Cloud with pay-per-usage pricing.
Article continues below advertisement
Azure Stack is leveraging the increased hybrid cloud adoption trend
Azure Stack is expected to find a preference among companies and industries that prefer the hybrid cloud's ability. These customers would gain control over their data even when using cloud services. They either want to—or are forced to—keep their data, applications, or services within their own data centers for security reasons or regulatory compliance.
Hybrid cloud technology typically offers more control, more cost-structure efficiency, reduced risk, and better performance. Owing to its scalability and flexibility, this space saw many takers. In 2016, Amazon partnered with VMware (VMW) last year to gain a foothold in the hybrid cloud space. IBM (IBM) is another leader in this space.
Azure Stack, built on the hybrid cloud, aims to address this requirement. Banking and medicine are among the industries that face heavy regulations and are prohibited from disclosing or uploading certain data to the public cloud. Azure Stack would come to their rescue as they can upload their data to their Azure Stack–powered data centers without uploading it to Microsoft's public cloud.