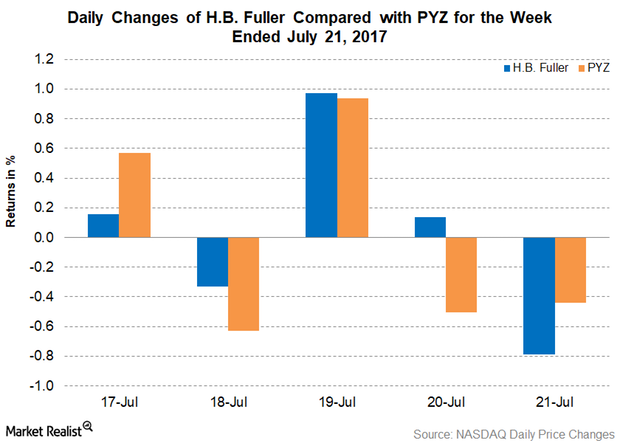 H.B. Fuller Will Acquire Adecol
H.B. Fuller to buy Adecol
On July 18, 2017, H.B. Fuller (FUL) announced that it has entered into an agreement to acquire Adecol Ind. Quimica, Limitada, a Brazilian company. H.B. Fuller has agreed to pay eight times the 2016 EBITDA (earnings before interest, tax, depreciation, and amortization). Adecol has reported $40 million in revenue in 2016. The deal is expected to close within the next few months.
The deal will help H.B. Fuller improve its position in Brazil. Jim Owens, H.B. Fuller's president and CEO, said, "H.B. Fuller has a strategic focus on growing our presence in emerging markets, and the Adecol team has deep market knowledge and local manufacturing capabilities that will enable us to partner more closely with customers and to grow in Brazil and across Latin America. We look forward to welcoming the employees of Adecol to the H.B. Fuller team."
Article continues below advertisement
H.B. Fuller's stock performance the previous week
H.B. Fuller had a quiet week with a meager gain of 0.1% for the week ending July 21, 2017. The stock closed at $51.50 and was trading marginally above the 100-day moving average price of $51.38. It outperformed the PowerShares DWA Basic Materials Momentum Portfolio (PYZ), which fell 0.1% for the week. On a year-to-date basis, the stock has returned 6.60%. Analysts see more upside in the stock. Analysts' consensus suggests a target price of 56.67, which implies a return potential of 10.0%—compared to the closing price on July 21. H.B. Fuller's relative strength index of 50 indicates that the stock isn't overbought or oversold.
Investors can invest in PYZ to indirectly hold H.B. Fuller. PYZ has invested 1.20% of its portfolio in H.B. Fuller. The fund's other holdings include Chemours (CC), FMC (FMC), and Albemarle (ALB) with weights of 4.30%, 4.0%, and 3.70%, respectively, as of July 21, 2017.