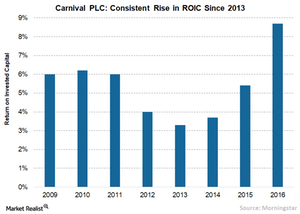 Carnival: Strong Brands Help Develop Market Niche
By VanEck

Updated
VanEck
Carnival PLC ADR (CCL LN) holds a dominant position in the cruise industry and services a diverse group of global consumers. Carnival has more than 100 ships in service with a passenger capacity of over 200,000 and attracts 11 million guests annually. Carnival operates 10 global brands of household names, such as Carnival Cruise Lines, Holland America, and Princess Cruises in North America alone. Morningstar gives Carnival a "narrow economic moat" based on "efficient scale, cost advantages, and intangible brand assets. Carnival captures about half of the total current capacity in the cruise market, and the three biggest constituents of the cruise market (Royal Caribbean, Carnival, and Norwegian) control nearly 90% of the North American market." Morningstar believes that the cruise market is underpenetrated, and the upside potential based on aging demographics is significant both in the U.S. and abroad.
Article continues below advertisement
Market Realist
Carnival's strong brands attract customers
Carnival (CCL) is the world's largest cruise company, carrying 48% of total global cruise travelers. Carnival is also among the most profitable and financially strong leisure travel companies (NCLH) (RCL) in the world. It provides leisure travel to all major cruise destinations across the globe.
Carnival has a portfolio of leading global, regional, and national cruise brands that offer customized products, services, and vacation experiences to travelers (PEJ). The company believes that having global and regional brands serving multiple countries and national brands serving individual countries provides it with a unique advantage.
Exploring new opportunities
The company currently operates 102 ships, and an additional 19 cruise ships are scheduled to be delivered between 2017 and 2022. Its annual net capacity growth through 2020 is expected to be 3%–4%, with more than 10% of this growth coming from Asia and ~3% coming from established markets. Carnival is mainly upbeat about its opportunities in Asia, where strong economic growth has led to higher discretionary income for consumers, fueling demand for leisure travel (EXPE).
Strong financial performance
Carnival's core strategy of driving consumer demand in excess of measured capacity growth, cost control measures, and leveraging scale has resulted in significant improvements in its earnings and ROIC (return on invested capital).
Carnival's ROIC rose from 3.3% in 2013 to 8.7% in 2016, and its earnings rose from $1.1 billion in 2013 to $2.8 billion in 2016.