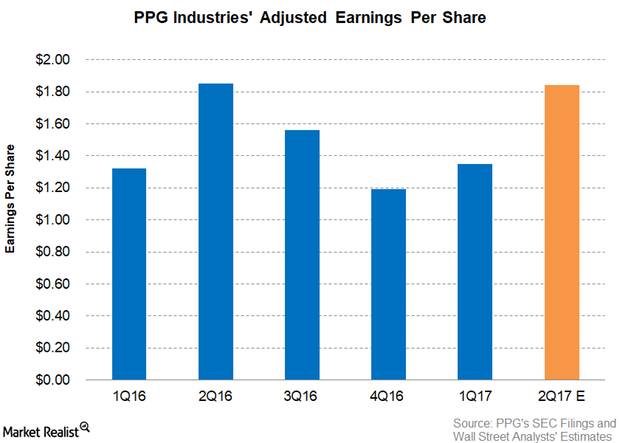 Can PPG Industries' 2Q17 Adjusted EPS Beat Estimates?
Analyst expectations for 2Q17 adjusted EPS
As of July 11, 2017, Wall Street analysts are expecting PPG Industries (PPG) to post adjusted EPS (earnings per share) of $1.84 in 2Q17. That implies a fall of 0.50% on a year-over-year basis. In 2Q16, PPG reported adjusted EPS of $1.85.
The expected fall in adjusted EPS is driven primarily by less income due to the company almost entirely getting out of the glass business. It will report only a small portion of its North American fiberglass business, which has been sold. The deal will be completed in the second half of 2017.
Article continues below advertisement
On the other hand, the restructuring program that PPG announced in 4Q16 is expected to improve its operating expenses. Analysts expect PPG's SG&A (selling, general, and administrative) expenses for 2Q17 to be $994.3 million, representing 25.3% of expected sales. In 2Q16, SG&A expenses were $1.1 billion, representing 26.5% of revenue. That's a fall of 120 basis points.
Share buyback
Often we see companies take the route of share repurchases in order to improve their EPS. In 1Q17, PPG Industries bought approximately 1.6 million common shares valued at $165.0 million and reduced the outstanding shares by 4.0%. PPG has committed to spending between $2.5 billion and $3.5 billion on acquisitions and share repurchases until 2018. We still need to see how much PPG will spend in 2Q17 on share buybacks.
You can invest in the Vanguard Materials ETF (VAW) to get indirect exposure to PPG Industries. VAW has invested 3.4% of its portfolio in PPG. The top holdings of the fund include DOW Chemical (DOW), DuPont (DD), and Monsanto (MON) with weights of 9.3%, 8.5%, and 6.0%, respectively, as of July 10, 2017.
In the next part, we'll look at PPG Industries' latest analyst recommendations.