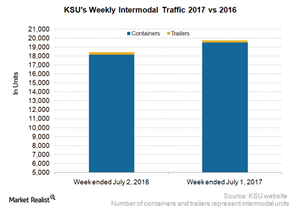 Behind Kansas City Southern's Intermodal Growth amid Weak Trailers
KSU's intermodal traffic in the 26th week
Kansas City Southern (KSU) reported a 7.2% rise in its overall intermodal volumes of containers and trailers in the week ended July 1, 2017. The company moved ~20,000 containers and trailers that week, compared with ~18,500 units in the week ended July 2, 2016.
In the 26th week of 2017, KSU witnessed a sharp decline in trailer volumes. While containers rose 7.7%, trailers recorded a double-digit fall of 22.1%. The company hauled 20,000 containers that week, compared with ~18,000 containers in the 26th week of 2016.
In the same week, KSU's intermodal traffic rose significantly, compared with the percentage rise registered US and Mexican railroads.
Article continues below advertisement
KSU's Mexican business hurdles
Kansas City Southern's special trackage rights in Mexico had invited an antitrust investigation by Mexico's competition commission. The Mexican Economic Competition Commission's primary investigation report was released on March 15, 2017.
In turn, KSU filed its response on April 20, 2017. It is now widely anticipated that the Commission will issue its final report regarding fair competition among Mexican freight rail carriers in September 2017.
KSU's Mexican subsidiary is expected to face tough competition from truck carriers. KCSM's intermodal business competes with Trinity Logistics, Landstar System (LSTR), and ByExpress Logistics.
ETF investments
Investors interested in pocket transport stocks can consider investing in the Guggenheim S&P 500 Equal Weight ETF (RSP), which includes all US-originated class I railroads (UNP) (CSX) in its holdings.
For a weekly comparison of freight rail data, you might be interested in Market Realist's series US Freight Rail Traffic Rose, Mexico Lagged in Week 25. You'll also want to keep visiting Market Realist's Railroads page for regular updates.