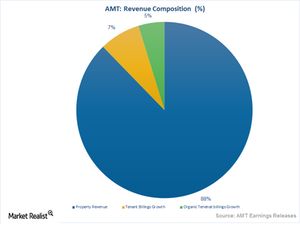 Behind American Tower's Robust 2Q17 Revenue Growth
Factors behind AMT's robust revenue growth in 2Q17
For 2Q17, American Tower (AMT) has reported robust double-digit revenue growth of 15.3%, backed primarily by higher tenant billing growth. AMT has been able to maintain a strong demand for its tower estates across the world, and its towers are high enough to accommodate several tenants, which has helped drive rental growth.
The company's revenue growth was driven by strong growth in the US. AMT's US Property segment rose 8.1% YoY (year-over-year), backed by a rise of 620 basis points in organic tenant billing. New businesses and co-locations contributed ~5% to the tenant billing growth, partially offset by a churn rate of 1.8%.
Article continues below advertisement
International presence boosts tenant growth
AMT's towers are located around the world, including several emerging markets, and this geographic diversity has helped the company take advantage of the transition or growth phases of several countries. Emerging countries, which are still in the development phase of telecommunication, are experiencing a spurt in demand for handsets. Such countries are contributing to AMT's tenant billing growth, given the huge demand for AMT's tower assets.
International organic tenant billings growth in 2Q17 was ~400 basis points higher than what it reported in the US. While Mexico led the revenue growth in Latin America, Ghana contributed the largest share in the EMEA (Europe, the Middle East, and Africa) region. Tenant billing growth in India stood at 10% as high demand in the region offset the churn rate due to industry consolidation.
AMT maintained its expansion activities and constructed ~460 sites globally.
Guidance across regions
In international markets, AMT raised its outlook marginally reflecting continued strong gross new business commitments, particularly in Latin America. AMT now expects organic tenant billings growth of ~10% at the midpoint, and it expects its international churn rates to be slightly lower. Its churn rate is now estimated to be ~2% for 2017, compared with the ~3% it previously expected.
By comparison, close competitors Realty Income Properties (O), SBA Communications (SBAC), Crown Castle International (CCI) reported revenues of $300.2 million, $1.04 billion, and $423.4 million, respectively. AMT and these peers constitute ~17% of the ProShares Ultra Real Estate ETF (URE).