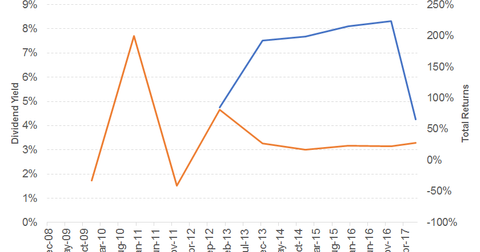 Arbor Realty Trust's Dividend Growth Prospects
By Amanda Lawrence

Jul. 26 2017, Published 4:10 p.m. ET
Arbor Realty Trust's dividend growth
Arbor Realty Trust (ABR) paid 74.1% of its earnings as dividends in 2016 compared to 56.7% in 1Q17. No dividend was declared from October 27, 2008, to May 4, 2012. ABR's rate of dividend per share has recorded consistent growth. 
The diversified REIT has maintained an average dividend yield of 7.3% and average total returns of 34% from 2012 to 2016. It has recorded a dividend yield of 4.2% and total returns of 27.5% on a YTD (year-to-date) basis.
Article continues below advertisement
Fundamentals
ABR is a nationwide direct lender and REIT concentrating on loan initiation and various commercial real estate assets. The REIT's net interest income fell 15% in 2016 due to rising interest expenses relative to income. 
Its Other revenues jumped 238%, driven by a gain in sales, mortgage servicing rights, and servicing revenues. Its 2016 EPS fell 8% due to higher Other expenses. ABR's 1Q17 net interest income posted growth of 17% versus 4Q16 and 8% versus 1Q16, as its interest income outpaced its expenses. Other revenues posted robust growth compared to 1Q16, and they were down 7% compared to 4Q16. 
ABR's 1Q17 EPS recorded phenomenal growth compared to 1Q16, driven by higher revenues and other gains. However, its 1Q17 EPS dipped compared to 4Q16 due to lower Other revenues and higher Other expenses.
ABR started recording negative growth in its FFO (funds from operations) since 2015, which was amplified in 2016. ABR has managed to reduce its financial leverage, which is lower than AGNC and ANH. ABR's PE of 9.9x compares to the sector average of 37x. A dividend yield of 8.7% compares to the sector average of 6.5%.