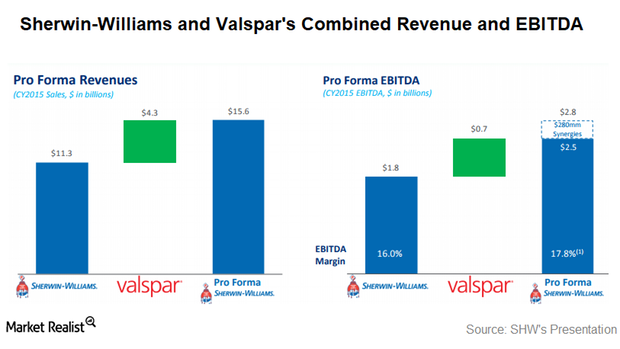 Analyzing Sherwin-Williams and Valspar's Acquisition Deal
Sherwin-Williams' offer to acquire Valspar
On March 20, 2016, Sherwin-Williams (SHW) announced that it entered into a definitive agreement to acquire Valspar in an all-cash transaction. Sherwin-Williams agreed to pay $113 per share to Valspar's shareholders—a 41% premium over the 30-day weighted average price up to March 18.
The acquisition was valued at ~$11.3 billion. Combined, the pro forma revenues for 2015 stood at $15.8 billion, which surpassed PPG Industries' (PPG) revenues for the same period.
Article continues below advertisement
Terms of merger agreement
For the acquisition to be successful, the following terms were established:
If any divestiture is required, Sherwin-Williams will pay $113 per common share only if the divestitures are valued less than $650 million.
If the divestitures exceed $650 million, Sherwin-Williams will pay $105 per common share of Valspar.
If the divestitures exceed $1.5 billion of its 2015 revenues, Sherwin-Williams has the right to terminate the acquisition agreement.
Approvals, benefits, and deal closure
On May 27, 2017, Sherwin-William received approval from the Federal Trade Commission and the Canadian Competition Bureau to acquire Valspar. However, to facilitate the acquisition, Valspar had to divest its wood coatings business to Axalta (AXTA) for $480 million, which was well below the terms of the agreement to get $113 per share.
The acquisition was completed on June 1, 2017. The acquisition is expected to generate cost saving synergies of $320 million in the span of three years. The acquisition is expected to strengthen Sherwin-Williams' position in the Asia-Pacific and EMEA regions. The acquisition could generate significant free cash flows.
Investors can hold Sherwin-Williams indirectly by investing in the First Trust Materials AlphaDEX Fund (FXZ). FXZ has invested 1.90% of its portfolio in Sherwin-Williams. FXZ has its highest investment in Westlake Chemical (WLK) with a weight of 3.40% as of July 12, 2017.