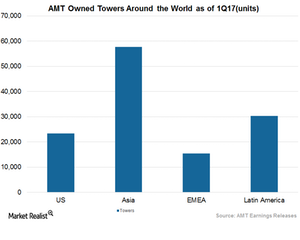 American Tower's 2Q17 Growth Rode on This
Investments in 2Q17
American Tower (AMT) deployed nearly $1 billion of capital in 2Q17. The total deployment consisted of $79 million for acquisitions and over $400 million for stock repurchases.
In 2Q17, American Tower spent more than $182 million toward constructing new sites, expanding the capacity of its existing sites, buying new lands, and upgrading newly-acquired sites to AMT standards.
In 2Q17, AMT took over 152 sites, including 54 towers in Brazil worth $79 million. The towers were acquired under an agreement with its subsidiary TIM Participações.
AMT now owns 5,873 towers worth $842 million under the deal with TIM Participações. AMT has plans to buy 1,200 sites in Colombia, 1,400 sites in Paraguay, and almost 100 additional sites in Mexico.
Article continues below advertisement
Guidance for capital deployment in fiscal 2017
AMT plans to invest $145 million–$175 million in discretionary projects, $150 million–$160 million in ground lease purchases, $165 million–$185 million in start-up projects, and $195 million–$225 million in redevelopment projects in fiscal 2017.
By comparison, close competitors Realty Income Properties (O), SBA Communications (SBAC), Crown Castle International (CCI) reported revenues of $300.2 million, $1.04 billion, and $423.4 million, respectively. AMT and its peers make up ~17% of the ProShares Ultra Real Estate ETF (URE).