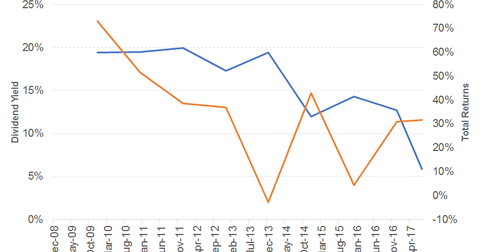 American Capital Agency: A 5-Year Slump in Funds from Operations
By Amanda Lawrence

Updated
American Capital Agency's dividend synopsis
American Capital Agency (AGNC) paid 134.5% of its earnings as dividends in 2016 compared to 257.1% in 1Q17. It has been paying monthly dividends since 2015. However, the rate of dividend per share has been dipping. The residential REIT has not changed its rate of dividend per share since August 2016.
However, it has maintained an average yield of 16.8% and average total returns of 34.4% between 2009 and 2016. AGNC has recorded a dividend yield of 5.8% and total returns of 31.5% on a YTD (year-to-date) basis.
Article continues below advertisement
Fundamentals
AGNC earns its income from the interest on mortgage-backed securities after deducting the borrowing costs. It also generates income from hedging practices. The REIT recorded a decline of 33% in its net interest income for 1Q17 versus 4Q16, as well as an 18% decline versus 2016, driven by lower interest income.
AGNC recorded 1% growth in 1Q17 compared to 1Q16. A decrease in its loss from hedging activities and slightly lower operating expenses contributed to the growth in its 2016 EPS. Its 1Q17 EPS, which ended in positive territory unlike 1Q16, fell 93% versus 4Q16.
While its 1Q16 EPS (earnings per share) were hammered by losses from hedging activities and higher operating expenses, its 4Q16 growth benefited from a gain from hedging activities and lower operating expenses.
AGNC's FFO has recorded negative growth in the last five years and in our view, it also needs to control its high financial leverage. AGNC's price-to-earnings multiple of 12.0x compares to a sector average of 19.2x. Its dividend yield of 10.0% compares to the sector average of 9.9%.