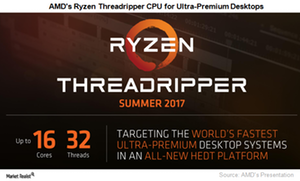 AMD's Ryzen Threadripper Challenges Intel in the Ultra-Premium PC Market
Ryzen Threadripper at a glance
Advanced Micro Devices (AMD) is launching its Ryzen series in multiple phases to systematically tap the entire PC market. In mid-May 2017, AMD unveiled the Ryzen Threadripper CPU for ultra-premium consumers who use PCs for high-end gaming or prosumer applications such as video editing, content creation, physical rendering, and application compiling.
AMD stated that Ryzen Threadripper would feature 16 cores and 32 threads, which is double that of Ryzen 7 and 60% more than Intel's (INTC) highest-end desktop processor available on the market. According to a Fortune report, Threadripper would be built on the X399 platform and feature four DDR4 memory channels and 64 lanes of PCIe[1. Peripheral Component Interconnect Express] Gen3.
Article continues below advertisement
The number of PCIe lanes determines the amount of bandwidth a PC system has to transfer data across various components such as SSDs[2. solid-state drives] and GPUs.[3. graphics processing units] As Threadripper is targeted at enthusiasts who use more than one GPU, the bandwidth of the system is important. Intel's X99 platform offers 40 lanes, and its cheapest CPU offers only 28 lanes.
According to the Fortune report, AMD would launch nine Threadripper processors starting with ten-core, 12-core, 14-core, and 16-core models. Dell has already purchased availability rights to Threadripper in the pre-built market for its Alienware Area 51 gaming desktop.
Several experts believe that AMD's Threadripper is dominating the very high-end market even before its launch, as consumers are giving it preference over Intel's current offerings.
Intel announces i9 processor
In response to AMD's Threadripper, Intel announced an 18-core, 36-thread i9 processor for the very high-end market at the Computex Taipei show in Taiwan (EWT). Intel did not reveal details about the processor.
Several media reports state that AMD is expected to launch Threadripper by the end of July 2017, and Intel is expected to launch Core i9 Extreme Edition in October 2017. Some industry experts believe that Intel is intentionally delaying its i9 launch, which would give it time to look at AMD's Threadripper and tweak i9's features to overtake Threadripper.
Pricing of the two products
According to Fortune, Intel could price its Core i9 Extreme Edition at $2,000. Like all its Ryzen offerings, AMD is expected to price its Ryzen Threadripper lower than Intel's price point. According to a Twitter leak, AMD could price Ryzen Threadripper at $850.
Apart from the CPU market, AMD is also entering the high-end GPU market to give tough competition to NVIDIA (NVDA). We'll look at AMD's GPU strategy in the next part of this series.