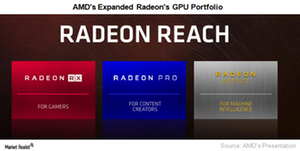 AMD Plans to Expand Radeon Vega GPU Lineup beyond Gaming
Advanced Micro Devices (AMD) has entered the high-performance GPU market with the launch of its Vega architecture.
AMD invests in GPU software
Advanced Micro Devices (AMD) has entered the high-performance GPU (graphics processing) market with the launch of its Vega architecture. Its Vega architecture competes with NVIDIA's (NVDA) GTX 1080 Titan XP GPU—the most powerful GPU available in the market.
AMD also invested in software to expand its GPU market beyond gaming into professional graphics and machine learning.
Article continues below advertisement
Article continues below advertisement
Radeon RX Vega GPU
In gaming, the lower the frame rate, the better. AMD's Vega GPU delivers the minimum frame rate as the GPU's high-bandwidth cache increases its speed twofold to threefold. Moreover, AMD offers continuous driver updates that improve older GPUs' performance by 10%–20% with every update.
AMD would integrate Vega GPUs with a Ryzen Mobile CPU[1. central processing unit] at the die level. At the Stifel Technology Conference, AMD's general manager of the Computing and Graphics Business Group, James Anderson, stated that the company would use the same Vega architecture. However, this would make the Vega GPU more power-efficient to suit the requirements of laptops and notebooks.
The Vega GPU is more powerful than Intel's (INTC) integrated GPU, giving Ryzen Mobile's significant graphics performance advantage over Intel.
Radeon Pro Vega SSG
Over the last 15 months, AMD has gained as many certifications as possible to support almost all professional tools on its GPU. This helped AMD bring its ecosystem closer to that of NVIDIA. AMD also worked on the hardware portion of the professional graphics GPU to address the issue that NVIDIA did not address.
AMD has developed SSG technology that integrates NVMe (non-volatile memory) drives with the Vega GPU, which has an HBC (high-bandwidth cache) controller. The combination of these two technologies significantly improves performance in professional visualization.
AMD's senior vice president of Radeon Technologies Group, Raja Koduri, explained that content developers need to deal with 2 TB (terabytes) of raw data while editing a 22-minute 4K video. The data requirement increases to 8 TB for an 8K video.
At the 2017 Financial Analyst Day, Koduri played an 8K video on a normal PC and a PC supported by SSG. He found that the frame rate dropped in the normal PC but not in the SSG-supported PC. Adobe (ADBE) is one of the early adopters of AMD's SSG technology.
ROCm
In 2016, AMD started work on ROCm (Radeon Open Compute platform) to expand its GPU offerings to machine learning.
Next, we'll look at AMD's EESC (Enterprise, Embedded, and Semi-Custom) segment.