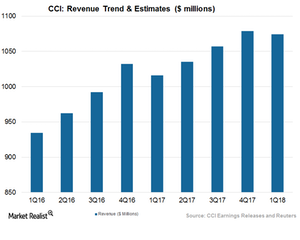 Why Crown Castle Expects to See Revenue Growth
Business momentum to continue
Crown Castle International (CCI) is expected to continue riding high on its current growth trajectory, driven by strategic investments and exposure to the booming small cell business. The solid top-line growth it has reported for the past few years is also expected to continue.
The company has almost 40,000 towers spread across the major US business trading areas and over 26,500 miles of fiber. CCI is expected to generate a revenue growth of 7.5%, 6.6%, 4.5%, and 5.7% in 2Q17, 3Q17, 4Q17, and 1Q18, respectively.
Article continues below advertisement
Robust revenue growth in 1Q17
CCI's revenue gained nearly 7%, or $58 million, in the first quarter, driven by growth of 4% or $34 million in organic site rental revenue and $40 million in contributions from acquisitions. The 4% growth in site rental revenue was driven by 8% growth in new leasing activity and contracted tenant escalations and by 4% growth from tenant non-renewals. Major tenants whose rents contribute heavily to in-site rental revenues include AT&T (T), T-Mobile (TMUS), Verizon Communications (VZ), and Sprint (S).
Site rental revenue constituted 84% of CCI's total revenues in 1Q17. While its Tower segment contributed 84% of site rental revenues, small cells contributed about 16% of total site rental revenues. Tower site rental revenues rose 2%, but small cell revenues gained a whopping 46% in 1Q17.
Non-renewals of leases in the Tower segment partially offset growth, but fibernet acquisitions and newly constructed small cells led to remarkable gains.
Enhanced guidance for 2017
For 2Q17, CCI expects its revenue to be in the range of $866 million–$871 million. For 2017, CCI raised its revenue outlook and now expects to report revenues of $3.5 billion, up 8% YoY.
Its current outlook is $5 million higher than the guidance it provided in its 4Q16 earnings conference call. CCI's management expects revenue to be negatively impacted by $50 million–$60 million in 2017 due to non-renewals of leases and the decommissioning of acquired networks.
Crown Castle, American Tower (AMT), SBA Communication (SBAC), and CenturyLink (CTL) expect churn levels to increase in 2017 due to increased merger and acquisition activity in the telecom industry. The number of tenants to whom towers are leased may decrease, but these will likely include well-capitalized tenants playing in a rational competitive market.
Notably, American Tower and Crown Castle together make up 11.5% of the PowerShares Active US Real Estate ETF (PSR).