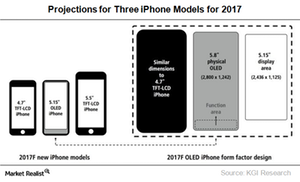 What's All the Fuss about Apple's iPhone 8?
Apple's iPhone 8
Apple (AAPL) is the largest customer of the semiconductor industry, with most chip companies depending heavily on the handset maker for revenues. Apple's high semiconductor consumption is due to a strong demand for its high-end iPhones that use a large amount of semiconductor content with every new update.
Apple saw its iPhone sales rise at an average annual rate of 25.0% between 2010 and 2015. However, this strong growth came to an end in 2016 as the iPhone suffered from technology stagnation and increasing competition from Chinese handset makers.
However, excitement is building among customers for the iPhone 8. Since 2017 marks the tenth anniversary of the iPhone, analysts and customers are expecting significant technology improvements in the iPhone 8.
Many media reports, citing unnamed sources, claim that Apple will introduce an OLED (Organic Light Emitting Diode) display, wireless charging, and AR (augmented reality) for the first time in the iPhone. It's important to note that these technologies already exist in several Android phones.
Article continues below advertisement
OLED display
iDrop News reported that the latest leaks state the iPhone 8 will have a special 5.8-inch OLED display that will be curved on the front and rear of the device. This curvature will reduce bezels on the side and allow Apple to increase the display size while having a smaller body size. Samsung's (SSNLF) Galaxy S8 and Galaxy S8 Plus feature dual-curved OLED displays.
The DigiTimes, citing China's local newspaper Economic Daily News, reported that the curved OLED and slimmer bezels will change the iPhone's display aspect ratio from 16:9 to 18.5:9. It cited sources from Apple's foundry partner Taiwan Semiconductor Manufacturing (or TSMC) (TSM) that a Touch ID (identification) fingerprint scanner will be embedded in the display, and the home button will be removed.
Some sources claim that the iPhone 8's OLED display will also feature the True Color sensor that adjusts the display according to the current environment's color and brightness. Apple uses this technology in its iPad Pro.
AR applications
The DigiTimes report also stated that the iPhone 8 will feature Apple's latest A11 processor, 3D- (three-dimensional–) sensing dual front cameras, and dual cameras on the back. Sources claim that the cameras will support AR applications. This rumor is backed by an earlier Bloomberg report that Apple is developing AR glasses that could wirelessly connect to the iPhone and beam content to the user.
Other leaks suggest that the iPhone 8 will feature Optical Image Stabilization in the dual-camera lens and 3D-sensing facial recognition in the front camera.
Wireless charging
Several analysts believe that the iPhone 8 will introduce a wireless charging feature that will be supplied by Broadcom (AVGO).
Other reports state that future iPhones might also feature AI (artificial intelligence) computing and in-house graphics cards. We'll take a look at that in the next part.