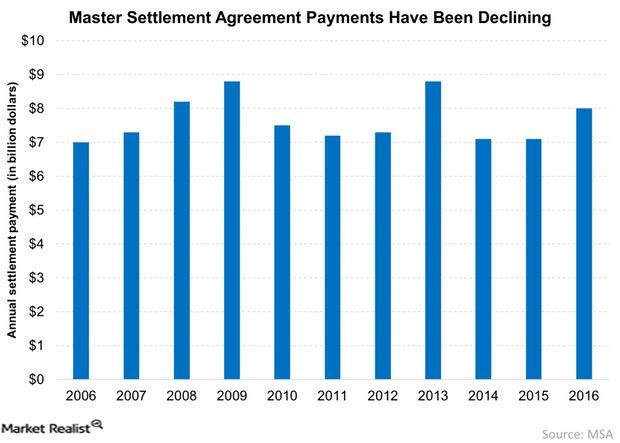 What Are Tobacco Bonds?
VanEck
"Tobacco bonds" are an important constituent group in high yield municipal bond portfolios — especially in some mutual funds or ETFs. Because of their complex structures, their behavior can be counterintuitive. For example, tobacco bonds do not benefit directly from tobacco company profits. However they do provide some important benefits – payments are pledged in perpetuity. In this article we look at tobacco bonds, and the part they can play in high yield municipal bond portfolios.
Article continues below advertisement
Article continues below advertisement
You may remember a time not too long ago when the tobacco industry's very existence seemed threatened. In the mid-1990s, 46 states, five U.S. territories, and the District of Columbia sued the five largest tobacco manufacturers to recover the financial burden that smoking was placing on their respective public health systems. In 1998, the Master Settlement Agreement (MSA) was arrived at. Under the MSA, the signatories agreed to settle their lawsuits in exchange for the cessation of certain marketing practices on the part of the tobacco companies, in particular the marketing of cigarettes to children. Most relevantly for Tobacco Settlement Securitization Bonds (TSSBs), the tobacco companies also agreed to annual payments to the states, U.S. territories, and DC in perpetuity, which would, at least in theory, compensate them for the medical costs associated with caring for those afflicted with smoking-related conditions. Over the intervening years, those payments have averaged $8 billion per year.
Market Realist
Tobacco bonds are a highly liquid, large, and high-yielding sector. Tobacco bonds belong to the municipal high-yield bond market (HYD). Tobacco companies make annual payments to states and territories. The also restrict their advertising practices, especially those targeting youth.
Many states have securitized the MSA payment that they have received, which is why they fall under the "municipal bonds" (XMPT) category.
As the above graph shows, payments are set at ~$9 billion annually across participating states. However, payments are subject to adjustments for US cigarette consumption, inflation, and other factors. Falling MSA payments suggest that tobacco consumption has fallen over the years.