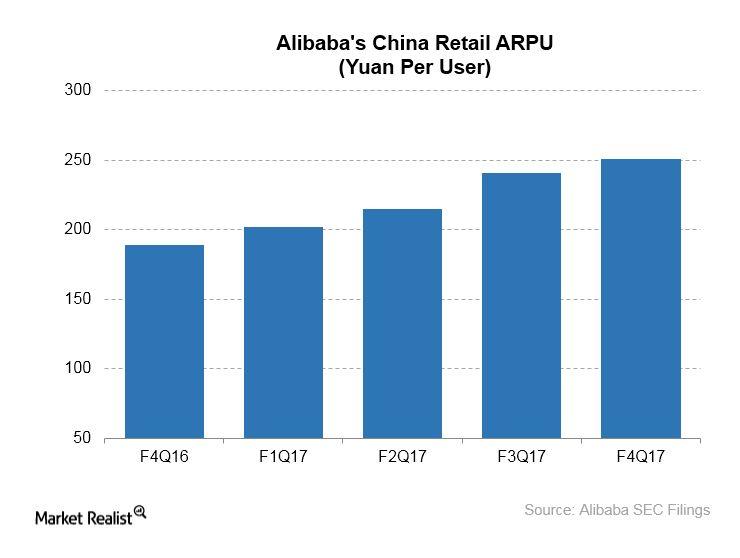 Understanding the Value of an Alibaba Customer
Active buyers up 11 million in three months
In Alibaba's (BABA) e-commerce industry, metrics such as active shoppers and average revenue per user (or ARPU) are closely watched because they provide investors with another way of understanding how a business is progressing.
For example, investors would likely be worried by a company with a falling customer base, even if its revenue were rising.
Alibaba finished its fiscal 4Q17 with 454.0 million annual active buyers on its Chinese retail marketplaces, a rise of 11.0 million compared to the previous quarter. The company also disclosed 507.0 million mobile monthly active users (or MAU), an improvement of 14.0 million compared to the previous quarter.
Article continues below advertisement
Alibaba taps more revenue from each shopper
Alibaba's ARPU from annual active shoppers on its Chinese retail platforms shot to 251.0 Chinese yuan ($36.0) in fiscal 4Q17, compared to 241.0 yuan in the previous quarter and 189.0 yuan in the previous year's comparable quarter. The chart above shows the company's ARPU trend for the last five quarters.
If the Chinese e-commerce revenue Alibaba reported in its fiscal 4Q17 is divided among its MAUs, the mobile ARPU on its Chinese retail properties works out to 179.0 yuan for the quarter, up from 166.0 yuan in the previous quarter and 123.0 yuan in previous year's quarter.
Alibaba going strong despite tough competition
The improvements in Alibaba's active buyer and ARPU metrics imply that the company is successfully navigating competition from JD.com (JD) and its other competitors.
As Alibaba expands abroad and comes into competition with Amazon (AMZN), eBay (EBAY), and Walmart (WMT), it'll be interesting to see how its global ARPU is affected.