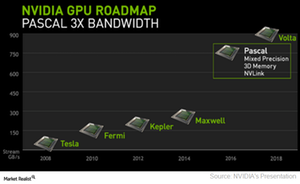 Speculation about NVIDIA's Volta Gaming Graphic Processing Unit
NVIDIA's product strategy
NVIDIA (NVDA) has officially unveiled its next-generation Volta architecture. Whenever the company develops a new architecture, it first launches it on the Tesla GPU (graphic processing unit) platform for data centers because it commands a higher price than other platforms. Then it launches the architecture on the GeForce gaming platform, as its sales volumes are high.
This product strategy helps NVIDIA maximize its profit. The company is due to launch the Tesla V100 in calendar 3Q17, which has stirred rumors about Volta-based GeForce GPUs.
Article continues below advertisement
Article continues below advertisement
Speculations on Volta gaming GPUs
There are several rumors that NVIDIA could launch Volta-based GeForce GPUs under the GTX 20-series. Other rumors claim that the GTX 20-series could simply be a refresh of Pascal architecture. These rumors come after Advanced Micro Devices (AMD) launched the Radeon 500-series, which is a refresh of its Polaris architecture.
The first rumor has more weight, with several news pieces backing it. At the 2017 GPU Technology Conference, NVIDIA CEO Jensen Huang showed a demo of Kingsglaive: Final Fantasy XV, rendered using Volta processors. The demonstration contained photorealistic fabrics.
Volta gaming GPU may feature GDDR6 memory
Earlier in this series, we saw that the V100 data center GPU will feature an expensive HBM2 (high bandwidth memory). However, the gaming variant features a less expensive memory—Micron Technology's (MU) GDDR5X.
According to a report by Wccftech, Taiwan's (EWT) SK Hynix could start mass production of its new GDDR6 memory in early 2018. SK Hynix will ship the first memory chips to a graphics card company that is developing its new high-end GPU.
Article continues below advertisement
There are only two major graphics card companies—NVIDIA and AMD. AMD is set to release its high-end Vega GPU for the data center by the end of June 2017, and for gaming by the end of 2017. NVIDIA is still far from launching its Volta GPU for gaming. By connecting the dots, we can assume that NVIDIA's Vega-based GeForce GPU will feature SK Hynix's GDDR6 memory.
NVIDIA's V100 data center chip features 15 teraflops of FP32,[1.32-bit single precision floating point], 30 teraflops of FP16[2.16-bit half-precision floating point], 7.5 teraflops of FP64[64-bit double precision floating point], and 120 teraflops for tensor operations. NVIDIA may convert this data center product into a Titan XV gaming product by removing FP64 units and tensor cores for FP32 units.
Possible launch date of Volta gaming GPU
According to a report by PCGamesN.com, Volta-based gaming GPUs are likely to launch in calendar 1Q18. Gaming is NVIDIA's core market and continues to present strong growth opportunities, which we'll look at next.