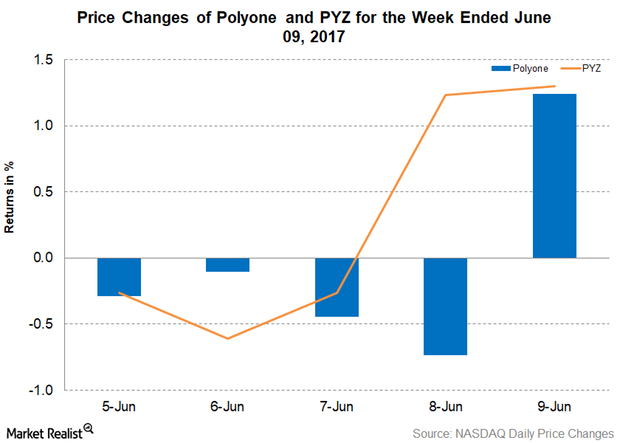 PolyOne Acquired Rutland Holding Company
PolyOne acquired Rutland Holding Company
On June 8, 2017, PolyOne (POL) announced that it acquired Rutland Holding Company. The acquisition will help PolyOne expand its portfolio of specialty color, additives, and ink solutions. However, PolyOne didn't disclose the financial aspects of the deal. The revenues from Rutland will be reflected in PolyOne's 2Q17 earnings. PolyOne said that more details about the acquisition would be provided during its 2Q17 earnings call.
Rutland has its headquarters in Pineville, North Carolina. The company is known for its screen printing inks that cater to the apparel market. It has a global presence which includes brands like Rutland, Printop, QCM, and Union Ink.
PolyOne's chairman, president, and CEO, Robert M. Patterson, said, "This recent investment is a natural extension of all that we do in color – from InVisiOSM design services to additive technologies that enhance product performance beyond their appearance."
Article continues below advertisement
Article continues below advertisement
PolyOne's stock price
On June 9, 2017, PolyOne closed at $38.27—down 0.3% for the week. Its stock price closed 8.6% above its 100-day moving average price of $35.23, which indicates an upward trend in the stock. Analysts expect PolyOne's 12-month target price to be $41.50, which implies a potential return of 8.4%—compared to the closing price on June 9. On a year-to-date basis, PolyOne has gained 19.9%. Its 52-week high is $40.88, while its 52-week low is $28.77.
The PowerShares DWA Basic Materials Momentum Portfolio (PYZ) holds 2.6% in PolyOne. PYZ outperformed PolyOne with a return of 1.4% for the week and closed at $61.59. The fund's top holdings include Chemours (CC), FMC (FMC), and International Paper (IP) with weights of 5.7%, 5.5%, and 4.80%, respectively, as of June 9, 2017.