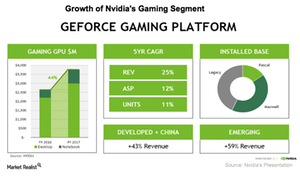 NVIDIA's GeForce Business Has a History of Success
NVIDIA's GeForce business
In the previous part of the series, we saw that NVIDIA (NVDA) generates sales volumes from its gaming business. The company has been in the gaming market for several years and earns more than 50% of its revenue from this market.
At NVIDIA's 2017 Investor Day, GeForce senior vice president Jeffrey Fisher showed how the gaming business has evolved over the past five years and how it could grow in the five years. Over the past five years, the gaming market has grown at a CAGR (compound annual growth rate) of 8%–10%, and PC (personal computer) gaming has grown at a CAGR of 6%–7%.
While the gaming market has been growing by single digits, NVIDIA's GeForce revenue has grown at a CAGR of ~25%. The high growth was due to three factors:
Article continues below advertisement
Article continues below advertisement
NVIDIA's market share increased from around 60% in 2011 to above 70% in 2016, as Advanced Micro Devices (AMD) lagged behind in technology
GeForce unit sales have increased by ~11% over the last five years due to eSports and notebook gaming
GeForce ASPs (average selling prices) have risen ~12% over the last five years due to AAA games and VR (virtual reality)
NVIDIA's revenue from emerging markets has risen ~60%, while its revenue from China (MCHI) and developed markets has risen 43% over the past five years.
NVIDIA enhances its gaming offerings with new features
As we learned earlier in this series, NVIDIA is enhancing its product offerings by developing a software ecosystem around its GPUs (graphics processing units). In the gaming space, it developed GeForce Experience software in January 2016. The software aligns the settings of various games with gamers' PCs (personal computers), giving them the best possible gaming experience. AMD quickly followed by launching equivalent software, Gaming Evolved, in September 2013.
Over the years, NVIDIA has been enhancing its GeForce Experience software by adding new features. The software has the capability to update the user's PC with "game ready drivers." In 2016, it added a share feature in GeForce Experience that allows gamers to record their gameplay and share it on YouTube Live, Twitch, and Facebook Live (FB). This feature increased gamers' engagement threefold in just one year.
Recently, NVIDIA added a rewards feature on GeForce Experience that offers discounts, promotions, free in-game items, and free games to GeForce Experience users.
NVIDIA expects strong growth in the gaming market to continue over the coming years as gaming evolves. Next, we'll look at GeForce's key growth drivers.