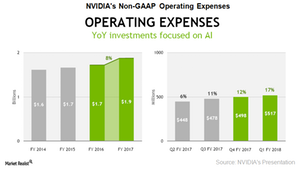 Why NVIDIA Is Increasing Its Operating Expenses in Fiscal 2018
Software spending exceeds hardware
NVIDIA's (NVDA) gross profit is directly proportional to its revenue growth and product mix. The company's research and development spending level for software now exceeds hardware.
At the J.P. Morgan 45th Annual TMT Conference, NVIDIA's chief financial officer, Colette Kress, explained how the company improves its margins. She stated that the company adopts a single architecture and then leverages it horizontally across end markets such as gaming, data center, automotive, and professional visualization. This reduces the company's overall hardware costs.
Article continues below advertisement
NVIDIA (NVDA) provides an end-to-end solution from the processor to the system, system software, and algorithms for every end market. Kress explained that the company is working with game developers, enterprises, automakers, and OEMs[1. original equipment manufacturers] to build the ecosystem around its GPU.[2. graphics processing units]
For example, NVIDIA developed GeForce Experience, an ecosystem that makes its GPU game-ready for the latest games.
What is driving NVIDIA's operating expenses? 
NVIDIA (NVDA) is also working with enterprise applications such as CAD, Autodesk, and Adobe to make its software compatible with these applications. The company is looking to make its GPU a general-purpose GPU that can work with any application in any end market. This increases the software cost but also opens new markets for NVIDIA's GPUs.
For instance, software development made Pascal a preferred choice for AI (artificial intelligence) tasks. Even Advanced Micro Devices (AMD) and Intel (INTC) are increasingly spending on software as they look to tap the AI market.
The cost of manufacturing hardware determines gross margin. However, the cost of developing software determines the operating margin, as it is included in the company's operating expenses.
Non-GAAP operating expenses
NVIDIA's non-GAAP[3. generally accepted accounting principles] operating expenses rose 17% YoY (year-over-year) to $517 million in fiscal 1Q18. The company expects to increase its operating expenses to $530 million in fiscal 2Q18.
Since fiscal 2014, NVIDIA's operating expenses were more or less flat at ~$1.7 billion, as it leveraged a single architecture across various platforms. However, its operating expenses increased 8% YoY in fiscal 2017 as it kick-started its growth initiative in the AI space.
NVIDIA (NVDA) plans to increase its operating expenses over the next few quarters as it implements its growth initiative. Next, we'll look at the company's operating profits.