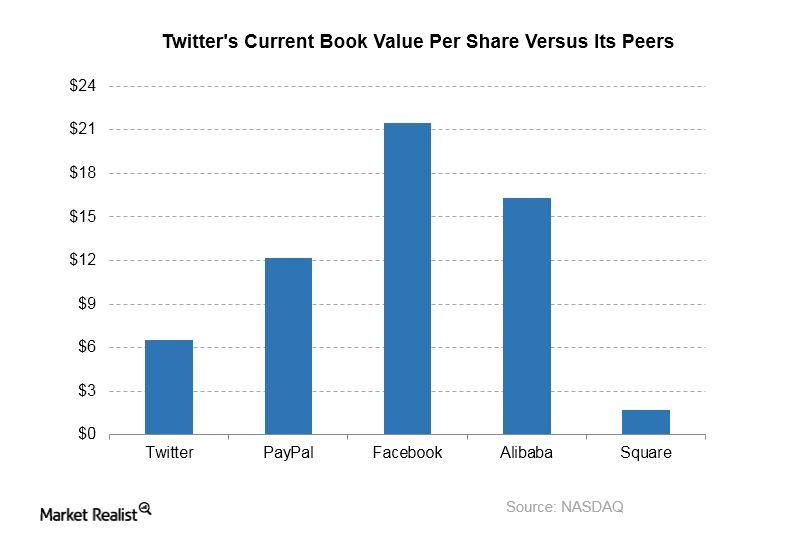 Inside Twitter's Valuation
Inside Twitter's price and valuation multiples
Twitter's current book value per share of ~$6.5 compares with its expected book value per share of $6.4. Twitter (TWTR) shares are trading at a PBV (price-to-book value) ratio of ~2.8x.
By comparison, peer companies PayPal (PYPL), Facebook (FB), Alibaba (BABA), and Square (SQ) have current book values per share of ~$12.2, $21.5, ~$16.3, and ~$1.7, respectively.
Twitter's PS (price-to-sales) ratio of ~5.3x also compares with its estimated PS ratio of ~5.7x.
Article continues below advertisement
Article continues below advertisement
Twitter's cash flow metrics
Twitter has $3.9 billion as cash in hand. Its PCF (price-to-cash-flow) and price-to-free-cash-flow are at 16.5x and 21.9x, respectively. For the trailing 12 months, the company's EV (enterprise value)-to-cash-flow is 13.7x, and its EV-to-free-cash-flow is 18.3x.
A look at Twitter's EBITDA numbers
Twitter's EBITDA (earnings before interest, tax, depreciation, and amortization) grew 20% to $159.7 million last year. Analysts are expecting the company to post EBITDA of $628.7 million. Twitter's shares are changing hands at a price-to-EBITDA ratio of 83.1x.
By comparison, peer companies PayPal, Facebook, Alibaba, and Square are trading at price-to-EBITDA ratios of 27.2x, 27.4x, 42.9x, and 32.5x, respectively.
Earnings and sales
Twitter reported EPS (earnings per share) of -$0.65. Its EPS for the current quarter is expected to be $0.33. Its EPS last year came from total sales of ~$2.5 billion, which grew 4% annually. Its sales are expected to decline to ~$2.3 billion this year and to ~$2.4 billion next year.