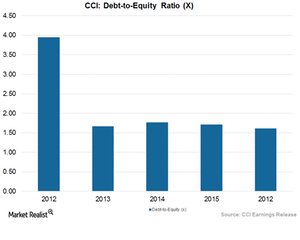 How Well Is Crown Castle Leveraging Its Balance Sheet?
Higher leverage is a prerequisite for expansion
REITs (real estate investment trusts) have to distribute ~90% of their taxable income to shareholders as returns in the form of dividends or share repurchases. Their only sources of revenues are rents that tenants or wireless carriers pay for leasing assets.
Although such rents are reliable and provide a continuous flow of income, REITs have to depend on debt and equity for funding expansion and shareholder returns.
For this reason, it's extremely important for REITs to maintain optimum debt levels, and managers work constantly to leverage balance sheets in the best possible ways.
Article continues below advertisement
Article continues below advertisement
High DE ratio
Crown Castle has not been able to maintain a low DE (debt-to-equity) ratio for the past five years. Its DE ratio has been above 1.0x for the last five years, and it reported a DE ratio of 1.83x in 1Q17 (ended March 31, 2017).
The industry median DE ratio is 1.07x, as compared to CCI's DE ratios of 1.61x, 1.86x, 1.79x, and 1.66x, respectively, for the trailing four quarters (excluding the first quarter). American Tower (AMT), Century Link (CTL), and Verizon Communications (VZ) have a DE ratios of 2.74x, 1.46x, and 3.39x, respectively.
Notably, American Tower and Crown Castle together make up 11.5% of the PowerShares Active US Real Estate ETF (PSR).
Average interest rates
Crown Castle has been trying to improve its liquidity position by issuing notes and refinancing activities. The weighted-average risk-free interest rate was 0.9% in 2016, 1% in 2015, and 0.7% in 2014.
CCI has incurred lower interest expenses and amortization for its deferred financing costs. These were ~$46.2 million lower (8%) from 2014 to 2015. The decrease was driven by a $44.4-million decrease in the amortization of previously settled interest.