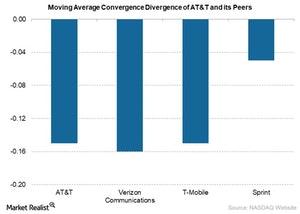 How the Technical Indicators for AT&T Compare to Its Peers
By Shirley Pelts

Jul. 4 2017, Updated 7:37 a.m. ET
Technical indicators for AT&T
The closing price for AT&T (T) on June 28, 2017, was $37.94. The stock is trading 5.2% below its 100-day moving average of $40, which was 2.7% below its 50-day and 20-day moving averages of $39 each. The stock has a 14-day RSI (relative strength index) of 41, indicating that the stock is leaning toward being oversold.
In contrast, AT&T's peers T-Mobile (TMUS), Verizon Communications (VZ), and Sprint (S) have 14-day RSIs of 27, 35, and 42, respectively. When a stock's RSI is below 30, it shows that a stock is oversold, while an RSI above 70 shows an overbought stock.
Article continues below advertisement
Bollinger bands and MACD
AT&T has an MACD (moving average convergence divergence) of -0.15. Verizon's MACD is -0.16, T-Mobile's is -0.15, and Sprint's is -0.05. A negative MACD indicates a downward trading trend, while a positive MACD indicates an upward trading trend.
AT&T has an upper Bollinger band of $39, a middle Bollinger band of $39, and a lower Bollinger band of $38. Bollinger bands are a combination of the stock's moving averages.