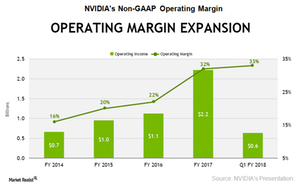 How Is Software Related to NVIDIA's Operating Margin?
NVIDIA's software development cost on the rise
NVIDIA's (NVDA) high software costs could increase its operating expenses over the next few quarters. However, the company sees its rising operating expenses as an investment to tap the $30 billion GPU (graphics processing unit) opportunity presented by the data center market.
NVIDIA's software creates a whole new ecosystem around its GPUs, which is driving its adoption in markets such as gaming, AI (artificial intelligence), and autonomous cars. For instance, NVIDIA developed GeForce Experience, an ecosystem that makes its GPU game-ready for the latest games.
Article continues below advertisement
Article continues below advertisement
Operating margin
Over the past four years, NVIDIA (NVDA) improved its non-GAAP[1. generally accepted accounting principles] operating margin by 1,600 basis points to 32% in fiscal 2017. The steepest growth came in fiscal 2017, as the margin improved from 24.7% in fiscal 1Q17 to 32.9% in fiscal 1Q18.
Although NVIDIA's operating margin rose significantly, its operating expenses rose because the investment in software opened new markets for NVIDIA's GPUs. This trend boosted its revenues to new highs.
The adoption of Pascal GPUs in the data center market increased significantly. The company expects its operating margin to expand along with revenue growth.
NVIDIA's software approach helped it become more profitable than its peers. NVIDIA's operating margin of 33% surpassed Intel's (INTC) operating margin of 26% in 1Q17. On the other hand, Advanced Micro Devices (AMD) is still struggling to return to operating profitability.
Next, we'll look at NVIDIA's four growth segments.