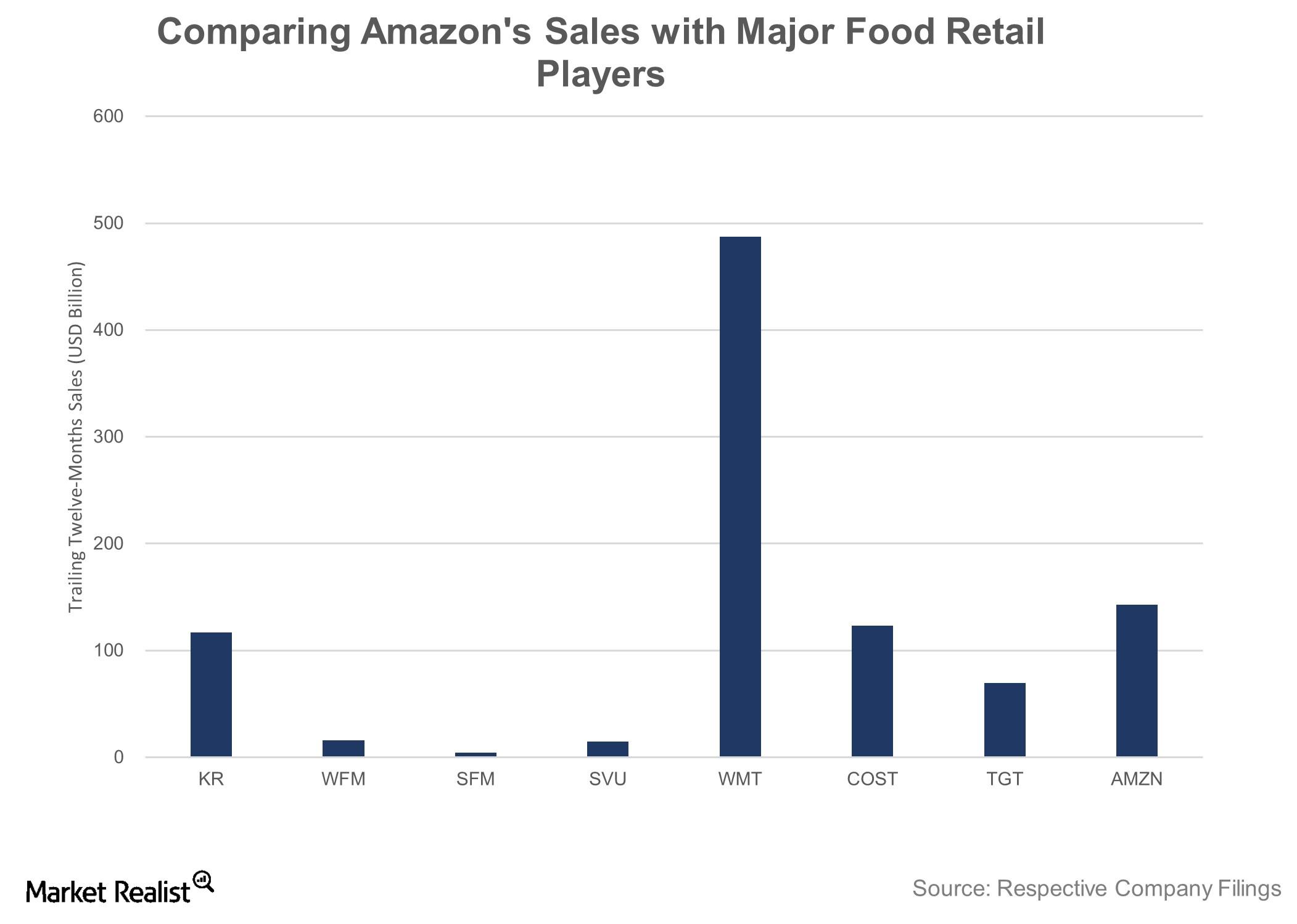 How Does Amazon Gain from the Whole Foods Deal?
More about the deal
As we saw in Part 1 of this series, Amazon (AMZN) announced the acquisition of Whole Foods Market (WFM) on June 16, 2017, for a transaction value of $13.7 billion, including debt.
Amazon agreed to pay $42 per share to Whole Foods shareholders. Whole Foods will continue to operate under the Whole Foods Market banner with John Mackey as its CEO (chief executive officer). The deal is expected to close by the end of this year and still needs shareholder approval.
Article continues below advertisement
Article continues below advertisement
What does it mean for Amazon?
The deal is Amazon's biggest transaction to date and will mark its entry into the brick-and-mortar retail space. Amazon is already present in the food delivery segment through AmazonFresh in five markets. With Whole Foods, Amazon will be able to expand its footprint across America's $700.0 billion grocery market space.
Madeline Hurley from IBISWorld said, "The transaction will allow the online retail giant to boost not only its grocery sales, but expand its brick-and-mortar presence."
Whole Foods currently operates 460 stores and has total sales of $16.0 billion. According to GlobalData Retail, WFM had a 1.2% market share of the US food and grocery segment in 2016. Walmart (WMT) is the largest player with a 14.5% share, followed by Kroger (KR) with more than a 7.0% share.
Amazon, with a mere 0.20% of the market share, has set the stage for a strong entry into the grocery space. The online juggernaut could turn Whole Foods stores into distribution hubs and pickup centers for its online grocery orders. It could become a one-stop shop for everything, including groceries, which was missing in its earlier offerings list.
Cooper Smith, Director of Amazon Research at L2 Inc., commented, "Within the next five years Amazon will become a top five grocer in the U.S."
News of the acquisition has already given Amazon a boost, pushing Amazon stock up 2.4% on June 16, 2017, and adding $11.0 billion to its market cap, which nearly pays for the $13.7 billion deal.
If you're looking for exposure to Amazon through ETFs, you can invest in the Consumer Discretionary Select Sector SPDR ETF (XLY), which invests 15.0% in the company.