How Disney Could Buck ESPN's Subscriber Loss Trend
ESPN continues to lose subscribers Late last month, The New York Post reported, citing Nielsen data, that The Walt Disney Company's (DIS) ESPN has continued to lose subscribers. In May, ESPN lost 3.8% of its subscribers. The Nielsen data did not include ESPN's subscribers from OTT (over-the-top) services such as Dish Network's (DISH) Sling TV. It […]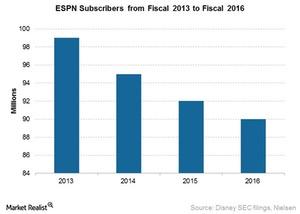 ESPN continues to lose subscribers
Late last month, The New York Post reported, citing Nielsen data, that The Walt Disney Company's (DIS) ESPN has continued to lose subscribers. In May, ESPN lost 3.8% of its subscribers. The Nielsen data did not include ESPN's subscribers from OTT (over-the-top) services such as Dish Network's (DISH) Sling TV. It indicated that ESPN was present in 86.9 million households in May, a decline of 3.3% year-over-year.
This data reinforces the belief that cable subscribers for live sports are on a decline, which could be a worrying factor for Disney's investors. According to a blog post on Ooyala, citing research from Ampere Analysis, Millennials seem to be losing interest in the viewing of live sports.
According to the Ooyala post, 11% of Millennials (18-to-24-year-olds) indicated that sports was their favorite genre, compared with 45% of viewers over 45 years favoring live sports.
Article continues below advertisement
Article continues below advertisement
Disney's strategy to counter this trend
In a bid to reach out to Millennials, Disney is focusing on a digital distribution strategy for ESPN. The company is distributing ESPN on skinny bundles priced at $40–$50 per month, similar to Hulu's recently launched online television service.
The company also expects to launch a direct-to-consumer service for ESPN later this year through its investment in BAMTech. Disney expects that this direct-to-consumer service will boost ESPN's viewership and the company could use this viewership data to improve ESPN's advertising revenue.