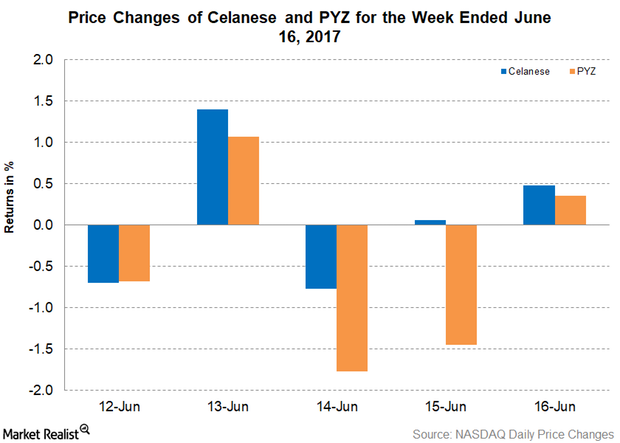 Celanese Raises Product Prices in Europe and Asia
<p>On June 13, 2017, Celanese (CE) increased the prices of methyl isobutyl carbinol (or MIBC) in Europe.</p>
Celanese raises product prices
On June 13, 2017, Celanese (CE) increased the prices of methyl isobutyl carbinol (or MIBC) in Europe by 100 euros per metric ton. Celanese also increased the prices of ethyl acetate by $50 per metric ton in Asia. In both cases, the price increase will be effective immediately or as the contract allows.
The price increase could have a positive impact on Celanese's revenue going forward if the sales volumes don't drop. In 2016, the company's Europe and African region recorded revenue of $564 million, while Asia recorded revenue of $332 million.
Article continues below advertisement
Article continues below advertisement
Celanese stock performance for the previous week
On June 16, 2017, Celanese closed at $90.52 with a gain of 0.4% for the week. The gains have led to improving the gap on a 100-day moving average price. CE traded 2.6% above the 100-day moving average price of $88.21. On a year-to-date basis, the stock has risen 16%.
CE's RSI (relative strength index) of 61 indicates that the stock is neither overbought nor oversold. Analysts expect the 12-month target price to be at $97.37, implying a potential return of 7.8% from the closing price as of June 16, 2017. CE's 52-week low is $60.59, while its 52-week high is at $93.06.
Investors can indirectly hold Celanese by investing in the PowerShares DWA Basic Materials Momentum Portfolio (PYZ), which fell 2.5% for the week. PYZ invests 2.4% of its portfolio in Celanese. The top holdings of the fund include FMC (FMC), Chemours (CC), and Air Products and Chemicals (APD), which have weights of 5.4%, 5.1%, and 40%, respectively, as of June 16, 2017.