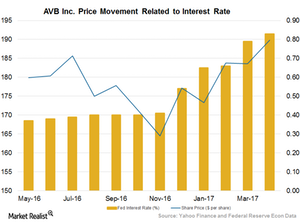 How Rising Interest Rates Impact AVB and Residential REITs
Interest rates creep up
There is wide anticipation in the market that the Federal Reserve could raise interest rates again during its upcoming meeting on June 14, 2017. The central bank had announced an interest rate hike in March, which was its second such announcement.
The widely anticipated move by the Fed saw the benchmark funds rate rise 0.25% to a range of 0.75%–1.0%. The Fed is expected to hike rates again by another 0.25%.
Article continues below advertisement
Article continues below advertisement
Are more rate hikes ahead?
The market has speculated that after its March rate hike, the Fed is expected to raise interest rates twice more in 2017. One of the rate hikes is expected to occur in June, and the second is expected to occur in December 2017. The Federal Open Market Committee (or FOMC) plans to approach its targeted rate of 2% with these phased increases.
How do rate hikes affect residential apartment owners?
Rising interest rates can reduce home affordability for future home buyers. According to recent data released by the Mortgage Bankers Association, mortgage applications for new home purchases have been falling.
Apartment building owners fund the construction of residential real estate through the purchase of mortgage-backed securities and mortgages. Residential REITs like AvalonBay Communities fund their investments via equity and debt capital. The high cost of debt can impact their profits negatively, as these REITs' profits come from the margin between interest income and their cost of operations.
Amid rising interest rates, risk-averse investors may prefer to invest in bonds that provide similar yields to those of REITs, triggering a sell-off in their stocks. This trend led to a price decrease for these REITs whenever there is a spike in interest rates.
However, rising rates can be favorable for REITs like AvalonBay Communities, Equity Residential (EQR), UDR (UDR), and Macerich (MAC) when an economy is growing.
AvalonBay (AVB) constitutes 9% of the iShares Trust – iShares Residential Real Estate Capped ETF (REZ). The volume traded for REZ was 527,600 shares in May 2017, compared to 919,700 shares traded in April 2017. REZ closed at $64.55 on June 1, 2017, higher than its closing price of $63.67 on May 1, 2017.
In the next article, we'll see how an interest rate hike amid a growing economy and a changing political environment could affect residential REITs.