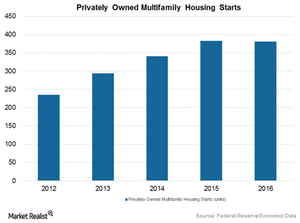 AvalonBay Communities and the Residential REIT Industry Overview
Residential REITs in 2016
AvalonBay Communities (AVB) and other residential real estate investment trusts (or REITs) sailed smoothly throughout 2016. Rents moderated during the year after remaining at record highs for 2014 and 2015.
However, the housing industry thrived as economic growth triggered demand for apartment units. Low oil prices, a strong dollar in the US market, and a decent job market were the factors that boosted apartment market fundamentals during 2016.
According to the US Department of Housing and Urban Development (or HUD), housing starts gained ~6.1% year-over-year, backed by 9% growth in the construction of single-family homes. However, multifamily housing starts dipped 1% from 2015.
Article continues below advertisement
1Q17: Not encouraging for apartment owners
So far in 2017, apartment owners like AVB, Equity Residential (EQR), GGP Inc. (GGP), and UDR Inc. (UDR) are not too optimistic about the homebuilding industry. According to the National Association of Home Builders (or NAHB), the multifamily production index dropped seven basis points to 48 basis points. This is a record low, as the index has not fallen below 48 basis points since 2011.
Housing starts rose 5% in February 2017, offset by declines of 2.7% and 6.8%, respectively, in January and March 2017.
Conditions did not improve in April either. Owing to a decline in production of multifamily units, housing starts did not improve in April and fell 2.6% from April 2016. Multifamily housing starts fell 9.2% during the month, while single-family unit starts remained flat.
Residential REITs may turn around in 2017
Although homeowners are depressed about the soft beginning to 2017, lower housing starts seem to be good news for the homebuilding industry. The supply of homes is still lower than the demand for single-family and multifamily homes in the high-demand metro areas. Metro areas offer consistent job growth, and residents can have easy access to good schools, hospitals, and office locations.
As overall supply is not growing enough to meet rising demand, rents are expected to remain high in these apartment markets, regardless of ramped-up supply.
Baby Boomers and Millennials are expected to join the pool of consumers for apartment units in 2017. This is expected to boost rental demand for apartments in 2017
According to NHAB's Housing Economics survey, housing starts are expected to rise 6.2% in 2017 and ~6.3% in 2018, backed by respective 9.6% and ~11.8% gains in single-family home sales. Multifamily home sales are expected to fall 0.66% and ~5.8%, respectively, in the next two years.
AvalonBay Communities (AVB) comprises 9% of the iShares Trust – iShares Residential Real Estate Capped ETF (REZ). The ETF has a market cap–weighted index that covers a variety of industries such as healthcare, self-storage, and residential REITs.
In the next article, we'll see how rising interest rates could affect the apartment industry.