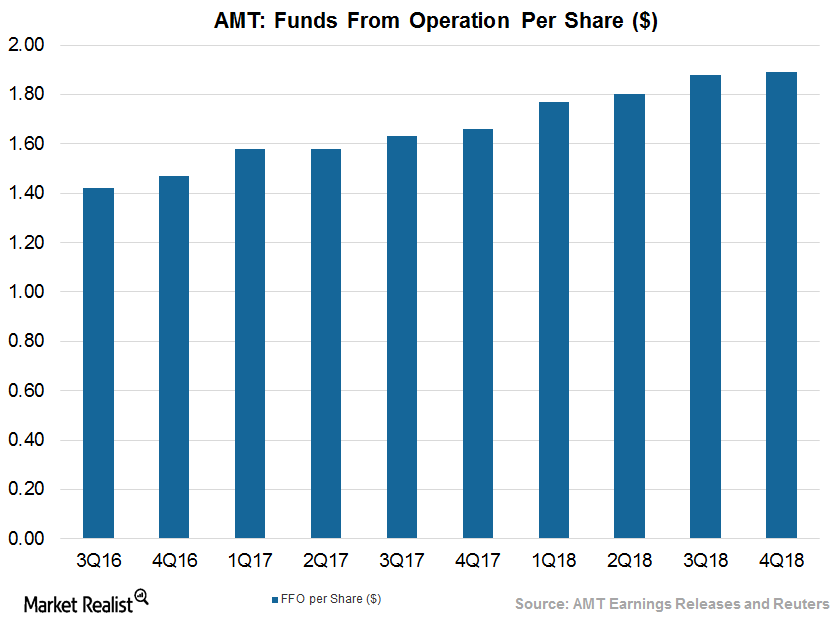 American Tower Rises above Uncertainty in Wireless Tower Sector
Wireless tower REITs
Investors appear to be jittery about wireless tower REIT[1. real estate investment trust] stocks, mostly due to the uncertainty overshadowing the industry. Large-scale consolidations and mergers in the telecom industry are resulting in increased churn rates among tenants of cell tower companies.
Plus, the upcoming 5G innovation could relegate cell towers to the back burner, as the 5G spectrum works through small cells that can be installed on top of light poles, buildings, and other common structures.
However, cell tower companies don't seem to be deterred by these uncertainties. Among these companies, American Tower Corporation (AMT) has long-term leases and marginal maintenance costs. AMT has strong business momentum and a renewal rate of 98%–99%.
Article continues below advertisement
Article continues below advertisement
The upcoming 5G era doesn't appear to be a threat for American Tower, as the network's operating spectrum can work only in densely populated urban cities. However, AMT's towers are mostly located in suburban and rural areas. The company also rewards its shareholders with robust dividend hikes and share repurchases.
American Tower (AMT), Crown Castle International (CCI), and Simon Property Group (SPG) constitute 17% of the PowerShares Active US Real Estate ETF (PSR).
Bright prospects ahead
American Tower is expected to maintain its growth trajectory. For fiscal 2017, AMT expects to report adjusted funds from operations (or AFFO) exceeding $2.8 billion. This figure is $55 million, or about 2%, higher than expected by the company.
As a result, AMT raised its 2017 AFFO per share outlook by 2%, which was higher than previously expected. The company expects to generate over $6.50 of consolidated AFFO per share, which is almost in line with analysts' estimate of $6.41 AFFO per share for 2017.
Analysts are also optimistic about the performance of the company and its ability to maintain business momentum. The company is expected to achieve a growth rate of 18.7%, 14.7%, 12.8%, and 11.8% in terms of AFFO in the next four quarters.
Article continues below advertisement
Business momentum
Although the company succumbed to a miss of 2.3% in 2016, the wireless tower owner has reported higher-than-expected funds from operations for the last four years since 2012.
Apart from beating estimates, AMT's AFFO also exhibited year-over-year gains. The company reported growth of 22.7%, 23.4%, 11.9%, and 10% in the trailing four quarters, respectively.
Strong start to 2017
During 1Q17, American Tower (AMT) reported adjusted funds from operation of $681 million, up 16% from 1Q16. Its AFFO per share came in at $1.58, which is 15.3% higher year-over-year. Its AFFO per share also exceeded analysts' expectations by 1.6% during the quarter.
Investors were encouraged by the earnings results as well as the raised guidance provided by AMT, and its stock rallied 5.1% to $131.85 since its earnings release on April 27, 2017.
For fiscal 2016, American Tower reported FFO (funds from operation) of $5.59 per share. Its close competitors Simon Property Group (SPG), SBA Communications (SBAC), Crown Castle International (CCI), and Realty Income (O) reported FFO per share of $10.87, $6.09, $4.72, and $2.88, respectively.
In this series, we'll look into American Tower's growth outlook, the effect of technological evolution, mergers and acquisitions, debt leverage capability, shareholder returns, and valuations.
In the next article, we'll see whether the company could maintain its AFFO growth in the coming quarters.